Contact Us
Institutional Communications
Bureau of Mines Building, Room 137
Laramie
Laramie, WY 82071
Phone: (307) 766-2929
Email: cbaldwin@uwyo.edu
Annual Wyoming Latina Youth Conference Oct. 8-9 at UW
October 1, 2021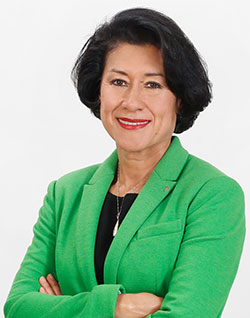 Lupita Colmenero
Approximately 250 people, including students and school chaperones, are expected for the 21st annual Wyoming Latina Youth Conference (WLYC) Oct. 8-9 on the University of Wyoming campus.
The WLYC is an annual celebration of "the power of choice" for Wyoming's Latina youth who will be "our upcoming leaders in the state," says WLYC Executive Director Cecilia "CC" Aragón, a UW professor of theater and dance, and faculty affiliate of the School of Culture, Gender and Social Justice.
The WLYC is an educational pipeline program at UW focused on leadership training; mentoring; science, technology, engineering and mathematics (STEM); and empowering young Latinas. The conference targets 5th-12th grade girls of Latinx heritage and attracts young Latinas from throughout Wyoming.
"The WLYC is a program at UW that exposes the students to higher education and leadership," Aragón says. "After many years of being held in Cheyenne, under the leadership of founder Ann Redman, the conference has permanently moved to UW."
The theme for this fall's conference is "Fostering WY Future Generations: Social Entrepreneurship, STEM and Wellness." Students will participate in a variety of workshops Saturday, Oct. 9, to discuss topics in STEM; entrepreneurship; financial literacy; career choices; healthy relationships; cultural identity; and leadership. Older students learn about applying for college; filling out the Free Application for Federal Student Aid (FAFSA) forms; career options; and applying for scholarship opportunities.
UW Latina students will serve as peer mentors, working with the school participants and leading all of the various workshops. Many of the UW students participated in the WLYC during their public school days. They say that the WLYC exposed them to UW and taught them the value of seeking higher education degrees and the importance of community leadership.
Students expected to attend the conference will be from Casper, Cheyenne, Fort Washakie, Gillette, Green River, Jackson, Laramie, Lovell, Pinedale, Rawlins and Sheridan schools.
A team-building program opens the conference Friday afternoon and culminates with "Noche Cultura: A Dramatic Reading of Las Pajaritas," a production from playwright Jordan Ramirez Puckett. A banquet, featuring keynote speaker Lupita Colmenero, co-founder and publisher of the Dallas, Texas-based El Hispano News newspaper and LATINA Style magazine, closes the conference Saturday evening.
Colmenero is the executive vice president of LATINA Style Inc., and president and founder of Parents Step Ahead, a Dallas-based nonprofit organization. The program recognizes, educates, enables and empowers parents to take a proactive role in the educational and personal development of their children.
Colmenero has served on numerous nonprofit boards, including the Cuban National Council and the Hispanic Association on Corporate Responsibility. In 2005, she was the first woman elected president of the National Association of Hispanic Publications Inc., where she championed the cause of minority-owned businesses, and prioritized training and mentoring Hispanic publications.
For more information about the WLYC, call Aragon at (307) 766-4124 or email ccaragon@uwyo.edu.
Contact Us
Institutional Communications
Bureau of Mines Building, Room 137
Laramie
Laramie, WY 82071
Phone: (307) 766-2929
Email: cbaldwin@uwyo.edu