Contact Us
Institutional Communications
Bureau of Mines Building, Room 137
Laramie
Laramie, WY 82071
Phone: (307) 766-2929
Email: cbaldwin@uwyo.edu
Team Registration Opens for 22nd Annual UW Entrepreneurship Competition
October 4, 2021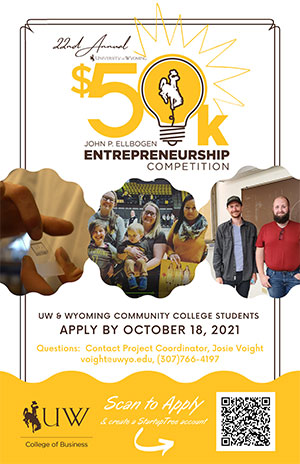 The registration period for teams to enter the University of Wyoming's 22nd annual John P. Ellbogen $50K Entrepreneurship Competition is now open and runs until noon Monday, Oct. 18. The UW College of Business hosts the student event.
The competition is designed to encourage college students across Wyoming to act on their talents, ideas and energy to produce tomorrow's leading businesses.
"The Ellbogen $50K competition is the premier applied-learning experience at the University of Wyoming for students interested in entrepreneurship. We look forward to another excellent group of student teams that will learn how to turn their dreams into reality," says Patrick Kreiser, the Rile Endowed Chair of Entrepreneurship and Leadership in the UW College of Business. "Student teams from the University of Wyoming and Wyoming community colleges are invited to enter for a chance to win cash prizes to help grow their businesses."
The competition features three rounds. The first round is the executive summary application; the second is the virtual pitch and written business concept; and the third round is the final presentation. The first two rounds will occur this fall, and round three will take place April 22-23, 2022.
The competition will feature two tracks for teams: undergraduate track and graduate track.
Last spring, eight teams competed in the third round and won $77,000 in prize money toward their businesses. All of the 2021 teams participated in a course titled "Business Model Creation and Launch" offered by the UW College of Business. The course assists teams in developing and strengthening their business models, including aspects such as sales channel and marketing strategy; revenue model; cost structure and financials; and competitor analysis in preparation for their final presentations.
"We were ecstatic with the quality and ingenuity of the teams competing in last year's competition," Kreiser says. "It is critical, given current economic circumstances, that we support our students in developing innovative business models that will help to strengthen and diversify the Wyoming economy."
The College of Business will host a $50K competition information session Tuesday, Oct. 12, at 6 p.m. in Room 127 of the College of Business Building.
Teams interested in registering to compete should go to www.uwyo.edu/business/entrepreneurship and click the competitor links.
For more information, email Josie Voight, UW College of Business project coordinator, at voight@uwyo.edu.
Contact Us
Institutional Communications
Bureau of Mines Building, Room 137
Laramie
Laramie, WY 82071
Phone: (307) 766-2929
Email: cbaldwin@uwyo.edu