Contact Us
Institutional Communications
Bureau of Mines Building, Room 137
Laramie
Laramie, WY 82071
Phone: (307) 766-2929
Email: cbaldwin@uwyo.edu
Tennant Named Executive Director of UW Alumni Association
January 28, 2022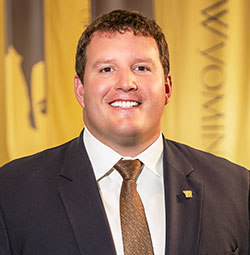 Jack Tennant
A University of Wyoming alumnus and former student-athlete who has held various positions with the university has been named the new executive director of the UW Alumni Association (UWAA).
Jack Tennant succeeds Keener Fry, who is retiring after a decade leading the UWAA.
"The national search for this critical position provided a highly qualified candidate pool. The search committee was pleased to engage with such strong leaders and even more pleased that the outcome is Jack Tennant -- an exceptional and committed leader who has been working to serve his alma mater since he graduated," Vice President for Student Affairs Kim Chestnut says.
Tennant's UW career started when he came to the university as a student and football team member in 2006. Since he graduated in 2010, his professional career has grown within the university as he has worked for the Department of Athletics and the UW Foundation, most recently as the foundation's annual giving director.
"The University of Wyoming alumni immediately welcomed me into the Wyoming family as a student-athlete more than 16 years ago. I am honored to be following in the footsteps of my mentor and friend, Keener Fry," Tennant says. "As the new executive director, I'm excited to work with the UWAA team and its Board of Directors. They have done a great job of driving the association's mission and values. I look forward to both continuing and furthering the association's success through a variety of programs that connect all alumni to their beloved university -- and fellow alums. Go Pokes!"
Tennant has already begun connecting with the UWAA team, board members and campus partners. He officially takes office as UWAA executive director Feb. 1.
The UWAA's mission is to "Build pride, loyalty and future sustainment among the UW community through communication, involvement, engagement and celebration."
For more information or to become a member of the UWAA, visit www.uwyo.edu/alumni.
Contact Us
Institutional Communications
Bureau of Mines Building, Room 137
Laramie
Laramie, WY 82071
Phone: (307) 766-2929
Email: cbaldwin@uwyo.edu