Contact Us
Institutional Communications
Bureau of Mines Building, Room 137
Laramie
Laramie, WY 82071
Phone: (307) 766-2929
Email: cbaldwin@uwyo.edu
UW Introduces New Student Success Platform
January 24, 2022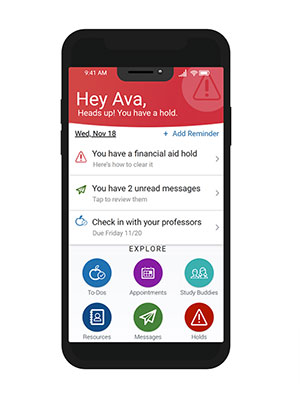 The Navigate student platform allows current students easy access to UW resources, including advising, peer mentoring and campus events.
Access to the multitude of resources at the University of Wyoming now can be found at the fingertips of current students.
UW has introduced the Navigate app, accessible via mobile download or desktop. It will be used for scheduling advising appointments but also offers helpful information about campus events, peer mentoring and weekly academic reminders.
Navigate is EAB's student success management system, a technology platform for student success in higher education. Navigate can be a tool to bring together students, administrators, advisers, faculty and other staff in a collaborative network to holistically support students across the college journey.
"As an institution, we've recognized the need to improve the effectiveness of our connections with students so we can provide the timely support they need," UW Provost and Executive Vice President Kevin Carman says. "Navigate is the latest high-impact change we're making in this regard, and we're excited to roll this out to our students."
There are two options to access the Navigate student app. For those who wish to use it on a mobile or tablet device, download the Navigate Student app (via the App Store or Google Play) and find "University of Wyoming" in the drop-down menu. Students also may access the platform by signing onto the desktop function. In both cases, students will use their UW credentials to log in.
More information can be found via the Navigate quick start guide.
Nationally, Navigate partners have seen positive outcomes, including graduation rate increases of 3-15 percent. According to the company, 9.5 million college students have used Navigate.
Contact Us
Institutional Communications
Bureau of Mines Building, Room 137
Laramie
Laramie, WY 82071
Phone: (307) 766-2929
Email: cbaldwin@uwyo.edu