Contact Us
Institutional Communications
Bureau of Mines Building, Room 137
Laramie
Laramie, WY 82071
Phone: (307) 766-2929
Email: cbaldwin@uwyo.edu
UW College of Education Launches Campaign to Recognize Lifelong Impact of Teachers
February 21, 2022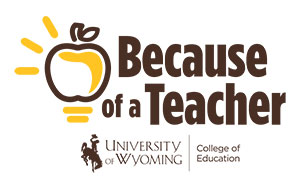 Teachers make an impact every day -- from big moments that shift the trajectory of a person's life to small things teachers do to make students feel safe, appreciated and ready to learn.
To celebrate these influential teachers and make their impact known, the University of Wyoming College of Education has launched the Because of a Teacher campaign to share stories that showcase how teachers make a difference in the lives of their students.
The new video campaign currently features two UW community members -- Athletics Director Tom Burman and Vice Provost for Strategic Planning and Initiatives Anne Alexander -- who share memories of teachers who made an impact on the trajectory of their lives. Additional videos will be released in coming months.
While most teachers would agree that their work is rewarding, it is not without its challenges, and several factors have caused a teacher shortage across the nation. Each semester, many principals in Wyoming struggle to place qualified teachers in classrooms, which puts student learning at stake. These shortages often occur in critical areas such as: career and technical education; English as a second language; English language arts; mathematics; science; social studies; special education; and world languages.
UW is developing highly qualified teacher candidates to create a steady flow of teachers for Wyoming classrooms to combat the shortage. The Because of a Teacher campaign aims to ensure current teachers feel valued for their tireless work and that young people will be inspired to enroll at UW and become the great teachers of tomorrow.
Visit www.uwyo.edu/because-of-a-teacher to see how educators have altered the course of distinguished Wyomingites' lives and helped build them into the people they are today. People are invited to submit short videos through the website to celebrate the influential teacher in their lives.
---
---
Contact Us
Institutional Communications
Bureau of Mines Building, Room 137
Laramie
Laramie, WY 82071
Phone: (307) 766-2929
Email: cbaldwin@uwyo.edu