Contact Us
Institutional Communications
Bureau of Mines Building, Room 137
Laramie
Laramie, WY 82071
Phone: (307) 766-2929
Email: cbaldwin@uwyo.edu
UW Extension Names New Educator in Crook County
February 14, 2022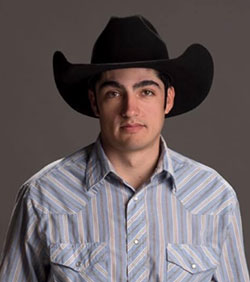 Alex Orozco-Lopez
A former range research technician is the new agriculture and natural resources educator for University of Wyoming Extension in Crook County.
Alex Orozco-Lopez began his job duties Jan. 4. Most recently, he worked as a range research technician for the University of Nebraska-Lincoln's (UNL) Panhandle Research and Extension Center in Scottsbluff, Neb. In that position, he collected and analyzed data on research projects in the Nebraska Panhandle and in the Sandhills.
He previously was a biological science aide at the U.S. Department of Agriculture's Agricultural Research Service in Cheyenne, where he worked with scientists, research technicians and other biological science aides to manage cattle and gather vegetation data.
In his new role, Orozco-Lopez will design, deliver and evaluate comprehensive educational programs addressing agriculture and natural resources needs in Crook County. He will investigate issues that area producers are facing and work with them to find solutions. Additionally, he will collaborate with other extension educators to host educational programs, provide training and support 4-H activities.
"What I look forward to the most in this position is being able to create relationships and collaborations with producers, other educators and other agencies," Orozco-Lopez says. "I look forward to learning from producers and working with them to address issues that impact Crook County."
Orozco-Lopez grew up on a cow-calf operation in Galt, Calif. He earned a master's degree in agronomy, with a specialization in range and forage science, from UNL in December 2021. He received his bachelor's degree in animal science from California State University-Chico in 2019.
"We are thrilled that Alex has joined the UW Extension team," says Mandy Marney, associate director of UW Extension. "His background in livestock production, coupled with his knowledge of livestock and range issues, is tremendously valuable for UW Extension."
Contact Us
Institutional Communications
Bureau of Mines Building, Room 137
Laramie
Laramie, WY 82071
Phone: (307) 766-2929
Email: cbaldwin@uwyo.edu