Contact Us
Institutional Communications
Bureau of Mines Building, Room 137
Laramie
Laramie, WY 82071
Phone: (307) 766-2929
Email: cbaldwin@uwyo.edu
UW Graduate Student Develops Assessment Tools to Assist Wyoming Health Division
February 15, 2022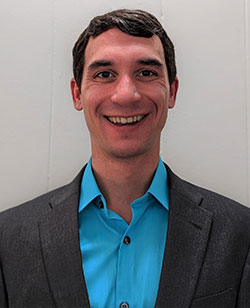 Danny Burns
A University of Wyoming master's degree student has received a regional Student Leaders in Public Health award to develop tools that will help a Wyoming Department of Health (WDH) program that assists women and children.
Danny Burns, a UW Department of Mathematics and Statistics student from Wall Township, N.J., was among 27 Student Leaders in Public Health (SLPH) program award winners. The program enhances the public health workforce in the Rocky Mountain region, specifically in rural and underserved communities and populations. The program supports students conducting applied health projects and provides opportunities for mentoring and professional development.
Burns, who received his bachelor's degree in psychology from Marist College and a neuroscience master's degree from the University of Hartford, is collaborating on the project with his adviser, UW mathematics and statistics Professor Tim Robinson, and the WDH's Women, Infants and Children (WIC) program. WIC representatives are Tina Fearneyhough, WIC unit manager for WDH, and Feliciana Turner, the department's performance improvement and health equity manager. Both are in the WDH's Public Health Division.
The collaborative project will use relevant WIC program data provided by the WDH, in conjunction with current best practices from similar states throughout the country, to build easy-to-update statistical models. Burns plans to develop a web app that will allow for WDH employees to update the models by simply entering information on key metrics through a browser. The models will allow for quick and accurate assessment of WIC vendor peer group status, fair and competitive pricing, and fraud detection.
"This is an excellent opportunity to get meaningful real-world experience working with data, especially for furthering public health missions," he says. "My career goals are to be able to work in the public health sector and with public health/biomedical data, and taking part in this project should be a great launching point."
Burns says thorough analyses on his collaborative project -- with accompanying detailed documentation -- will be conducted to ensure optimal peer group placement based on the most relevant and useful metrics for the state. A "plug-and-play" application will be developed so that WDH employees can update and compare vendor prices on-demand to make sure all vendors, both currently approved and those awaiting authorization, remain competitively priced, and will have the ability to flag those that are not.
"The goal of the collaborative group project is to provide the WDH with easy-to-use tools that will last many years, making the process of vendor-WIC and federal compliance simpler, accessible and more accurate," Burns says. "This, ultimately, will most benefit those who rely on WIC services, as more federal dollars could become available, as will more vendor options."
Robinson praises the collaboration between the WDH and UW.
"The UW Department of Mathematics and Statistics will be providing an important product for the Wyoming Department of Health through this project and, in turn, Danny will have hands-on training with data science that will be invaluable for him as he prepares for the job market," Robinson says.
If the overall results are successful, other local or state agencies can use the project's data tools, Burns says. He adds that he's "extremely fortunate and grateful" to have received the SLPH award, and to work with Robinson and WDH professionals.
"Having the opportunity to learn in such a setting and being able to showcase my skills while building connections with individuals and institutions such as WDH are invaluable and something I couldn't have imagined just six months ago," Burns says. "I couldn't be more excited to work on this project and to help the people and state of Wyoming."
Contact Us
Institutional Communications
Bureau of Mines Building, Room 137
Laramie
Laramie, WY 82071
Phone: (307) 766-2929
Email: cbaldwin@uwyo.edu