Contact Us
Institutional Communications
Bureau of Mines Building, Room 137
Laramie
Laramie, WY 82071
Phone: (307) 766-2929
Email: cbaldwin@uwyo.edu
Sheridan Gun Business Receives Assistance From UW's SBDC Network
March 4, 2022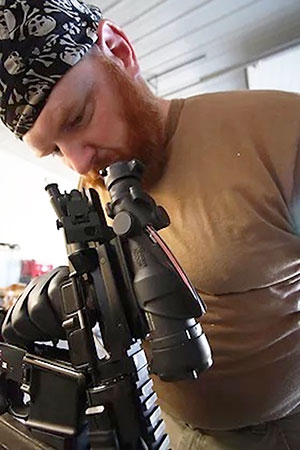 Mike Miller, owner of Spartan Precision Gunsmithing in Sheridan, inspects a firearm in his shop. (Mike Miller Photo)
Starting a business is never a simple task, especially in the midst of a pandemic. However, that didn't stop one Sheridan entrepreneur, who received assistance from the University of Wyoming's Small Business Development Center (SBDC) Network.
As a retired U.S. Navy veteran and the son of a master gunsmith, Mike Miller knew exactly what he wanted to do when he decided to work for himself. In fact, "exact" is a key component of Miller's business, Spartan Precision Gunsmithing.
That's because the manufacturing of custom bolt-action rifles -- the main focus of his business -- means he must stay within tolerances of about .0005 of an inch, which is less than the thickness of a sheet of paper.
"Being retired from the military, I don't have to work, but I choose to," Miller says. "I enjoy firearms, and a lot of my friends are real gun fanatics and hunters. So, a lot of them would come to me for help with their firearms. It seemed a natural fit for me to pursue gunsmithing."
Early on, Miller invested a significant amount of money to obtain some equipment and make renovations to his shop. However, he needed even more specialized equipment to offer the full range of services that Spartan Precision Gunsmithing provides. That's when Miller began searching for assistance to obtain financing.
Miller first reached out to the Veterans Business Outreach Center in Billings, Mont. He was then referred to his local Wyoming SBDC Network adviser, who was able to get him started with an in-depth business plan and also brought in other Wyoming SBDC Network experts to help with financial projections and more.
"Getting everything locked down with the Wyoming SBDC Network's spreadsheets really helped with applying for the loan," Miller says. "I also have to give kudos to my wife, Kristina, for wordsmithing the business plan. She's the refined one. I'm more of a blunt instrument."
With his business plan and financial projections in hand, Miller obtained a business loan in summer 2021 to purchase a lathe, mill, dies, tooling and other equipment to get his company into full production.
Spartan Precision Gunsmithing provides a wide variety of firearm services out of Miller's Sheridan workshop. Thanks to the full complement of equipment, Miller is able to manufacture custom bolt-action rifles, rework clients' current rifles and apply Cerakote, a thin-film protective ceramic coating for corrosion protection.
The Wyoming SBDC Network offers no-cost advising and technical assistance to help Wyoming entrepreneurs think about, launch, grow, reinvent or exit their business. In 2021 alone, the Wyoming SBDC Network helped Wyoming entrepreneurs start 80 new businesses, support 4,077 jobs and bring a capital impact of $9.2 million to the state. The Wyoming SBDC Network is hosted by UW with state funds from the Wyoming Business Council and is funded, in part, through a cooperative agreement with the U.S. Small Business Administration. To learn more, visit www.wyomingsbdc.org.
Contact Us
Institutional Communications
Bureau of Mines Building, Room 137
Laramie
Laramie, WY 82071
Phone: (307) 766-2929
Email: cbaldwin@uwyo.edu