Contact Us
Institutional Communications
Bureau of Mines Building, Room 137
Laramie
Laramie, WY 82071
Phone: (307) 766-2929
Email: cbaldwin@uwyo.edu
UW Selects Parag Chitnis as VP for Research and Economic Development
March 25, 2022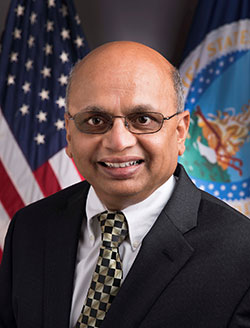 Parag Chitnis
An experienced administrator who has led numerous interdisciplinary research programs for two federal agencies and two land-grant universities has been chosen as the University of Wyoming's vice president for research and economic development.
Parag Chitnis, most recently the associate director for programs at the U.S. Department of Agriculture's National Institute of Food and Agriculture (NIFA), will begin his new role at UW May 31. His appointment was approved today (Friday) by UW's Board of Trustees.
"Dr. Chitnis brings a deep understanding of both the federal research funding landscape and the mission of land-grant universities to UW," President Ed Seidel says. "We're excited he's joining our leadership team to help move the university forward and achieve our ambitions in the highly related areas of research and economic development."
The role of the vice president for research and economic development is to support and facilitate the research efforts of UW's faculty, staff and students; direct the university's research mission as a public research university; promote the university's research program with stakeholders; direct technology transfer and commercialization efforts for UW intellectual property; and facilitate synergies with Wyoming industry.
Those tasks are at the center of UW's efforts to achieve R1 status in the Carnegie Classifications of Institutions of Higher Education, the top tier of American research universities, and to become a stronger economic engine for the state through the Wyoming Innovation Partnership and related initiatives.
"I am honored to join UW's dynamic leadership team for advancing President Seidel's transformative vision for digital, entrepreneurial, inclusive and interdisciplinary excellence at UW," Chitnis says. "The impressive faculty, dedicated staff, energetic students and a clear set of goals position UW on an exciting path to seed and nurture even more creative activities at UW; to enhance research infrastructure; and to catalyze economic prosperity for Wyoming citizens by innovating avenues for deliberate commercialization of research outputs."
Chitnis has been a leader at NIFA since 2014, holding other positions including acting director; deputy director of food production and sustainability; and associate director for operations. The federal agency provides leadership and funding for programs that advance agriculture-related sciences. Notably, Chitnis oversaw the successful reestablishment of NIFA in Kansas City, Mo., after relocation of its 300-plus positions from Washington, D.C., in 2019.
In his most recent role, Chitnis has led and managed more than 70 NIFA programs with a total budget of nearly $2 billion annually. Among his many responsibilities, he enhanced funding opportunities for extension programs nationwide and led participation in interdisciplinary initiatives such as artificial intelligence. He led partnerships with land-grant universities as a liaison to agriculture experiment stations and cooperative extension services. He also was a leader in international collaborations in animal and plant health.
Before going to NIFA, Chitnis was the director of the Division of Molecular and Cellular Biosciences at the National Science Foundation (NSF), where he also served as a deputy director and program director starting in 2002. Among his many accomplishments during that period, Chitnis led research grant programs in molecular and cellular systems and led initiatives in areas including synthetic biology and functional genomics at the interface of biology and other disciplines. He received the NSF Director's Awards for Program Management Excellence, as well as for his diversity initiatives.
Many of the NSF research programs he led were interdisciplinary, involving chemistry, physics and engineering programs.
At Iowa State University (1996-2002), Chitnis was a full professor and associate professor in the Department of Biochemistry, Biophysics and Molecular Biology. Before that, he was an assistant professor in Kansas State University's Division of Biology and Kansas Agricultural Experiment Station (1991-96). He taught a diverse array of courses at those institutions, from introductory biology for undergraduates to membrane biochemistry for advanced graduate students. His research in plant biochemistry, photosynthesis and proteomics was supported by over $4 million in research grants from many federal and private sources.
Chitnis holds a Ph.D. in biology from UCLA; an M.S. in genetics and biochemistry from the Indian Agricultural Research Institute in New Dehli; and a B.S. in botany from Konkan Agricultural University in Dapoli, India.
In addition to his administrative appointment at UW, Chitnis will be a tenured professor in the Department of Molecular Biology. He and his spouse, Vaishali Chitnis, are looking forward to moving to Laramie this summer.
"Dr. Chitnis has extensive expertise in areas that are central to UW's land-grant mission," says UW Provost and Executive Vice President Kevin Carman, who led the search committee. "He has had great success as both a scholar and administrator, and we're looking forward to drawing upon his experiences to advance the university's important research enterprise and reach UW's potential as an economic driver for the state."
Contact Us
Institutional Communications
Bureau of Mines Building, Room 137
Laramie
Laramie, WY 82071
Phone: (307) 766-2929
Email: cbaldwin@uwyo.edu