Contact Us
Institutional Communications
Bureau of Mines Building, Room 137
Laramie
Laramie, WY 82071
Phone: (307) 766-2929
Email: cbaldwin@uwyo.edu
Gray Receives UW's Inaugural Laramigo Award for Community Engagement
April 21, 2022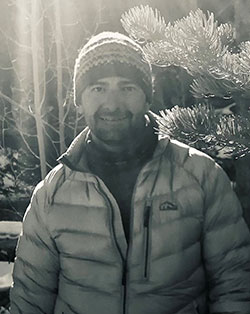 Matt Gray
It is only fitting that University of Wyoming Department of Psychology Professor Matt Gray receive the Laramigo Award for Community Engagement.
The new award recognizes the contributions of UW faculty and staff members to the university and Laramie communities. The award, created by anonymous donors, offers a stipend to a UW employee and a Laramie-based nonprofit organization of the recipient's choice. Gray will split the award between Albany County SAFE Project and the UW Sexual Assault Survivor Emergency Fund.
Gray is a highly published educator, researcher and advocate for adult and adolescent psychological health. He is engaged in the community in a number of ways, such as being a member of agencies that work to provide a helping hand to those in need, and has volunteered to raise money for those community partners.
Gray, who has been at UW since 2002, mitigates the effects of trauma from abuse -- physical, emotional and sexual. In his role as a professor, he has trained a large number of students who are now out in the world improving the psychological health of adults and children.
"Much of Matt's work in the community -- that is of great benefit to our fellow citizens -- is 'under the radar,'" says nominator Ken Gerow, UW's director of the Program in Statistics.
Through his professional work, Gray has:
-- Developed a free telehealth clinic that provides free counseling/therapy to survivors of sexual assault/domestic violence throughout the state.
-- Provided pro bono evaluations for sexual assault/domestic violence impacts in the context of immigration asylum cases, for which he has multiple clients.
-- Provided pro bono therapy to low-income survivors of sexual assault/domestic violence.
-- Served as a volunteer trainer of SAFE Project advocates about trauma impacts.
-- And provided testimony about sexual assault/domestic violence impacts in trials statewide.
Gerow says Gray deserves the inaugural Laramigo award because Gray coined the term "Laramigo." Nearly 20 years ago, Gray submitted a letter to the editor that was published in the Laramie Boomerang.
In the letter, Gray said community members were vocal on both sides of the issues involving a smoking ban in local restaurants; the debate on various refuse collection systems; and ongoing parking woes. Gray added that, "from this day forward," all Laramie residents should be known as "Laramigos" to "put away petty squabbles" and, instead, be a unified community.
"Here is a fellow who takes his work very seriously -- work that directly benefits the community around us -- but who does not take himself nearly so seriously," Gerow says. "I have the utmost admiration for the man and find him most deserving of a Laramigo award."
Mike Vercauteren, Laramie Interfaith's retired executive director, says the leadership Gray provided to the agency was valuable.
"I know I speak for more than just one nonprofit -- we all wanted more people like Matt Gray on our own team," Vercauteren says. "Dr. Gray is an outstanding human being, and it was an honor to work with him and to know him."
Gray received his B.A. (1993) from Creighton University; an M.S. (1995) from Drake University; and his Ph.D. (2000) from the University of Mississippi. Before coming to UW, he worked and trained at the National Crime Victims Research and Treatment Center in Charleston, S.C., and at the National Center for PTSD in Boston, Mass.
Contact Us
Institutional Communications
Bureau of Mines Building, Room 137
Laramie
Laramie, WY 82071
Phone: (307) 766-2929
Email: cbaldwin@uwyo.edu