Contact Us
Institutional Communications
Bureau of Mines Building, Room 137
Laramie
Laramie, WY 82071
Phone: (307) 766-2929
Email: cbaldwin@uwyo.edu
Hannah Rhymes Named Outstanding Graduating Student at UW
April 27, 2022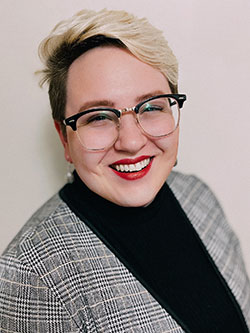 Hannah Rhymes
During her five years at the University of Wyoming, Hannah Rhymes, from Oklahoma City, Okla., has learned what it truly means to serve others.
Rhymes will graduate next month with a B.S. degree in physiology and minors in honors and neuroscience. She carries a 3.45 grade-point average and plans to apply to medical school.
At UW, she has immersed herself in her academic classes while also serving in volunteer roles, not only on the UW campus, but also in the community. Those qualities have made Rhymes one of three recipients of the Tobin Memorial and Rosemarie Martha Spitaleri Outstanding Undergraduate Award as an outstanding graduating student. The award recognizes students for exhibiting the finest leadership, academic integrity and citizenship qualities.
Also receiving the award were Wendy Luna Garcia, from Wheatland, and Connor Rindler, from Laramie.
As a student, Rhymes has completed an internship in the New Mexico INBRE (IDeA Networks of Biomedical Research Excellence) Summer Experience. She also has completed an internship within the Todd Lab, where she has performed immunohistochemistry on brain tissue samples. She also has scored more than 100 behavioral videos to support the lab's neuroscience research focus. William Todd, an assistant professor in the UW Department of Zoology and Physiology, leads the lab.
Rhymes has taken three upper-level physiology classes -- two also serve graduate students -- taught by Todd.
"In each, Hannah has stood out for her understanding and engagement with the course material. Because of this, I was thrilled when she asked to join my lab as an undergraduate research intern," Todd says. "Simply put, my lab would not be where we are today without Ms. Rhymes. She has become highly proficient in several techniques for behavioral neuroscience research."
Beyond her prowess in the lab and in the classroom, Rhymes has shown leadership in extracurricular activities at UW, including serving in the Associated Students of UW (ASUW) student government as a senator and chief of staff for ASUW's executive branch. She has served as an advisory board officer for the Service, Leadership and Community Engagement office, where she has held multiple leadership roles. Rhymes was a founding member of the Nontraditional Student Council and participated in UW's First-Year Institute. These experiences opened her up to the possibilities of student leadership roles. She also volunteered in the community.
"In truth, I am waiting for the time when Hannah runs for political office, and I will be her top campaign volunteer," says Ryan O'Neil, UW's dean of students and associate vice president for student affairs.
In reflecting on the collection of experiences and lessons she's learned over the past five years, Rhymes says it is evident that none of these experiences can be compartmentalized or separated from one another.
"Like a tapestry, all of these experiences are woven into each other, connected and ignited by my sincere belief that the best leaders are those who serve, encourage and lift as they climb," she says.
As she enters the final stretch of her UW undergraduate career, Rhymes finds herself overwhelmed with gratitude.
"My experiences aren't confined to the vacuum of college life, ceasing to bear meaning after I graduate," Rhymes says. "Rather, these experiences are catalyzed by the values and beliefs that UW has instilled, developed and refined in me over the past five years. When I leave this campus, I will take with me a robust passion for empowering my peers and my community."
Contact Us
Institutional Communications
Bureau of Mines Building, Room 137
Laramie
Laramie, WY 82071
Phone: (307) 766-2929
Email: cbaldwin@uwyo.edu