Contact Us
Institutional Communications
Bureau of Mines Building, Room 137
Laramie
Laramie, WY 82071
Phone: (307) 766-2929
Email: cbaldwin@uwyo.edu
Pianist Cory Smythe in UW Music Residency April 25-29
April 21, 2022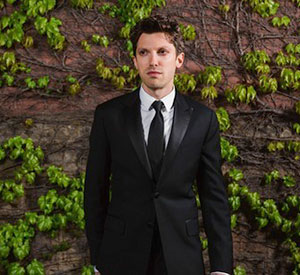 Cory Smythe
Grammy Award-winning pianist Cory Smythe will be in a collaborative piano residency April 25-29 with the University of Wyoming Department of Music.
The residency will culminate in a recital at 7 p.m. Friday, April 29, in the Buchanan Center for the Performing Arts recital hall. The event is free and open to the public.
The recital will feature UW Department of Music faculty members James Przygocki, a professor and chair of the String Area, and Senior Lecturer Sherry Sinift, violinist, as well as music from composers Amy Beach, Ernst Bloch, Anthony Braxton, UW music Professor Anne Guzzo and Charles Ives.
Smythe's residency also will include a jazz studio class from 5-6 p.m. and a master class for strings and piano from 7-9 p.m. Monday, April 25; a composition master class Wednesday, April 27; a convocation with UW Department of Music students from 1:10-2 p.m. Thursday, April 28; and an improv session from 1-2 p.m. Friday, April 29.
"Cory is known in the New York area as being at the forefront of avant jazz," Sinift says. "He is possibly the most diverse musician I know personally, and we are very excited to bring him here."
Smythe has worked closely with pioneering artists in new, improvisatory and classical music, including saxophonist-composer Ingrid Laubrock, violinist Hilary Hahn and multidisciplinary composers Braxton and Zosha Di Castri. Smythe received a Grammy Award for his work with Hahn, and he plays regularly in the critically acclaimed Tyshawn Sorey Trio.
His music dissolves the lines between composition and improvisation with rigor, according to the Chicago Reader.
Smythe has been featured at the Approximation, Concorso Busoni, Darmstadt, the Newport Jazz Festival, Nordic Music Days, Trondheim International Chamber Music Competition, the Wien Modern music festival and the Lincoln Center's Mostly Mozart Festival, where he was recently invited to premiere new work created in collaboration with Peter Evans and Craig Taborn.
He has received commissions from the Banff Centre for the Arts, Milwaukee's Present Music, the Shifting Foundation and the Trondheim Jazz Orchestra. He also is a longtime member of the International Contemporary Ensemble.
For more information, call Kathy Kirkaldie, UW Fine Arts coordinator, at (307) 766-2160 or email kirisk@uwyo.edu.
Contact Us
Institutional Communications
Bureau of Mines Building, Room 137
Laramie
Laramie, WY 82071
Phone: (307) 766-2929
Email: cbaldwin@uwyo.edu