Contact Us
Institutional Communications
Bureau of Mines Building, Room 137
Laramie
Laramie, WY 82071
Phone: (307) 766-2929
Email: cbaldwin@uwyo.edu
UW Department of Music to Feature Renowned Violinist Augustin Hadelich April 21-22
April 18, 2022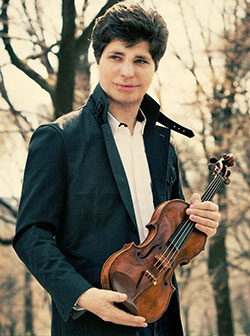 Augustin Hadelich
The University of Wyoming Department of Music will host Grammy Award-winning violinist Augustin Hadelich in "Violin Treasures" at 7:30 p.m. Friday, April 22, in the Buchanan Center for the Performing Arts concert hall. He also will be a resident guest artist for the department.
The concert will feature a mixed program of works for violin and piano by Beethoven, Ravel and the African American composer Coleridge-Taylor Perkinson. UW faculty pianist Chi-Chen Wu will collaborate on the compositions. The G major concerto by African French composer Joseph de Bologne will follow. The UW Chamber Orchestra, directed by music faculty member Beth Vanderborgh, will perform on the piece.
Tickets are $10 for the public; $7 for senior citizens; $6 for students not attending UW; and free to UW students with a "W" number. To purchase tickets, visit the Performing Arts box office, call (307) 766-6666 or go online at www.uwyo.edu/finearts.
Along with the concert, Hadelich will be in residency April 21-22 with the UW Department of Music, sponsored by the Colonel Rogers Fund. During his residency, Hadelich will teach, rehearse and perform with UW Department of Music students. He also will hold a public violin master class at 2 p.m. Thursday, April 21, in the Performing Arts concert hall.
"I first met Augustin back in the mid-2000s, shortly after his win at the Indianapolis competition," says John Fadial, UW professor of violin. "I was a concertmaster of the Greensboro Symphony, and Augustin was one of our guest soloists. He was a very sincere, soft-spoken individual, but one could tell, even back then, that he had something extraordinary."
From Bach to Brahms and from Bartók to Adès, Hadelich has mastered a wide-ranging repertoire. He is often referred to by colleagues as a "musician's musician," and he is consistently cited worldwide for his phenomenal technique, soulful approach and insightful interpretations.
Hadelich won a Grammy Award in 2016 for "Best Classical Instrumental Solo" for his recording of Dutilleux's "L'arbre des songes" with the Seattle Symphony. As a Warner Classics artist, his most recent release is a Grammy-nominated double CD of the "Six Solo Sonatas and Partitas" of Bach. In 2018, he was awarded "Instrumentalist of the Year" by Musical America.
"As a great artist today, Augustin Hadelich has taken his rightful position alongside names such as Itzhak Perlman and Yo-Yo Ma," Fadial says. "When the prospect of funding for an event like this arose, Augustin was at the very top of the wish list."
Hadelich recently was appointed to the Yale School of Music at Yale University. Throughout his distinguished career, he has appeared with every major orchestra in North and South America. Hadelich has performed with world-renowned orchestras or symphonies in Finland, Germany, Hong Kong, Japan, New Zealand, Norway, the United Kingdom and Spain.
Among Hadelich's other distinctions are an Avery Fisher Career Grant in 2009; a Borletti-Buitoni Trust Fellowship in the U.K. in 2011; the Warner Music Prize in 2015; and an honorary doctorate from the University of Exeter in the U.K. in 2017. Hadelich plays the violin "Leduc, ex-Szeryng" by Giuseppe Guarneri del Gesù of 1744, which is among the most valuable instruments in the world.
To learn more about Hadelich or hear excerpts from his recordings, visit www.augustinhadelich.com.
For more information, call Kathy Kirkaldie, UW Fine Arts coordinator, at (307) 766-2160 or email kirisk@uwyo.edu.
Contact Us
Institutional Communications
Bureau of Mines Building, Room 137
Laramie
Laramie, WY 82071
Phone: (307) 766-2929
Email: cbaldwin@uwyo.edu