Contact Us
Institutional Communications
Bureau of Mines Building, Room 137
Laramie
Laramie, WY 82071
Phone: (307) 766-2929
Email: cbaldwin@uwyo.edu
UW Department of Music to Host Guest Pianist Andrew Staupe May 6
April 29, 2022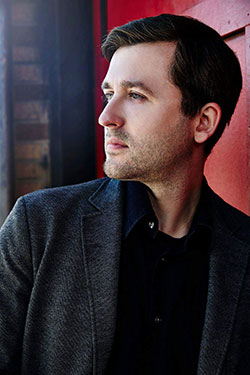 Andrew Staupe
The University of Wyoming Department of Music will host guest pianist Andrew Staupe Friday, May 6.
The concert will take place at 7:30 p.m. in the Buchanan Center for the Performing Arts concert hall.
Tickets are $10 for the public; $7 for senior citizens; $6 for students not attending UW; and $4 for UW students and employees. To purchase tickets, visit the Performing Arts box office, call (307) 766-6666 or go online at www.uwyo.edu/finearts.
Staupe will offer an eclectic program of piano music, including works by composers John Bull, Frédéric Chopin, Ottorino Respighi, Franz Schubert, Clara Schumann and Germaine Tailleferre. He also will perform with the UW Symphony Orchestra May 5.
Staupe is emerging as one of the distinctive voices in a new generation of pianists. He has performed with many of the top orchestras throughout the United States and in Europe, including the Baltimore Symphony, Indianapolis Symphony, Minnesota Orchestra, San Diego Symphony and the George Enescu Philharmonic in Romania. He has performed recitals in numerous distinguished concert venues, including Carnegie Hall and Steinway Hall in New York; the Kennedy Center and Library of Congress in Washington, D.C.; Concertgebouw in Amsterdam; Rachmaninov Hall in Moscow; the Salle Cortot in Paris; and the Schumann Haus in Leipzig.
An avid chamber musician, Staupe has jammed with legendary vocalist Bobby McFerrin, played tangos with the Assad Brothers, toured with violinist Chee-Yun and collaborated with many other distinguished musical artists. He is passionate about performing contemporary music and has premiered a large number of new works.
He also has been a featured guest on American Public Media's "Performance Today" and Garrison Keillor's "A Prairie Home Companion."
Staupe serves as an assistant professor of piano at the University of Houston, and he formerly taught at the University of Utah. He is artistic director of the Young Artist World Piano Festival in Minnesota. Additionally, he gives frequent master classes and lectures around the United States.
For more information, call Kathy Kirkaldie, UW Fine Arts coordinator, at (307) 766-2160 or email kirisk@uwyo.edu.
Contact Us
Institutional Communications
Bureau of Mines Building, Room 137
Laramie
Laramie, WY 82071
Phone: (307) 766-2929
Email: cbaldwin@uwyo.edu