Contact Us
Institutional Communications
Bureau of Mines Building, Room 137
Laramie
Laramie, WY 82071
Phone: (307) 766-2929
Email: cbaldwin@uwyo.edu
UW History Professor Receives Grant for International Reparations in Germany Seminar
April 19, 2022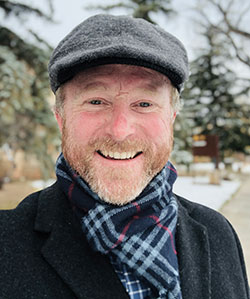 Adam Blackler
Adam Blackler, an assistant professor in the University of Wyoming's Department of History, recently received a grant to co-host the Trans-Atlantic Summer Institute (TASI) to discuss reparations in Germany.
Blackler will co-lead a two-week seminar titled "Reparations: A Global German Affair" July 18-29 with interdisciplinary faculty at the University of Minnesota-Twin Cities' (UMTC) Center for German and European Studies (CGES). The seminar is open to doctoral students whose research is focused on reparations in the aftermath of genocide, mass violence, state violence and colonial crimes.
While the seminar will focus on German contexts, students can approach the topic from various disciplinary perspectives, such as history, literature, performance, ethnic studies, art history, law and anthropology. Advanced doctoral students can share chapter or article drafts, and students in earlier stages each may present a dissertation prospectus or an equivalent text. Travel and meal accommodations will be covered. The deadline to apply is Sunday, May 1. For more information, go here.
Blackler received the $75,000 TASI grant from the Deutscher Akademischer Austauschdienst (DAAD), or the German Academic Exchange Service. The DAAD is an international service that funds faculty and student research in Germany. UMTC's CGES is among the 19 DAAD-funded centers. For more information on DAAD, go here.
Blackler says he and his UMTC colleagues are grateful to receive DAAD funding. The seminar will focus on local discussions surrounding reparations and social justice in the context of Indigenous dispossession, anti-Black violence and structural racism.
Blackler adds that the TASI seminar will take a comparative, multidisciplinary lens to critically explore the following questions: What role does remuneration play in the aftermath of mass violence? Who gets to determine the parameters of these exchanges, and who is left out of the conversation? How do reparations shape historical memory in the communities representing victimized groups as well as in those compensating for past crimes?
Seminar discussions will be facilitated by a multidisciplinary team of experts, including Blackler; Sheer Ganor, a historian of German-speaking Jewry and assistant professor of genocide studies in UMTC's Department of History; Zoé Samudzi, a Zimbabwean American writer and scholar whose work focuses on the Herero-Nama genocide; and Jamele Watkins, an assistant professor of German studies at UMTC.
Blackler is a historian of modern Germany and southern Africa whose research emphasizes the transnational dimensions of imperial occupations and settler-colonial violence in the 19th and 20th centuries. His scholarly interests also include the political and social dynamics of Germany's Weimar Republic and the interdisciplinary fields of the Holocaust and genocide studies, and international human rights.
Blackler's forthcoming book, "An Imperial Homeland: Forging Germany Identity in Southwest Africa," will appear this September in Pennsylvania State University Press' book series "Germans Beyond Europe," sponsored by the Max Kade Research Institute. Currently, he is researching a book project that explores the vibrant topography of Berlin's parks, market squares, streets and municipal districts before and during the Weimar Republic.
"In addition to my participation in this international conference, the TASI seminar is an example of the exciting work that the UW Department of History faculty is engaging in presently," Blackler says.
This includes:
-- UW Department of History Assistant Professor Melissa Morris recently won a prestigious Fulbright Fellowship to conduct research and teach at Leiden University in the Netherlands in spring 2023.
-- Last summer, Assistant Professor Peter Walker won a National Endowment for the Humanities grant, allowing him to conduct essential research on his forthcoming project.
-- Associate Professor Alexandra Kelly recently published her book monograph titled "Consuming Ivory: Mercantile Legacies of East Africa and New England" with the University of Washington Press.
For more information about the TASI seminar, email Blackler at ablackle@uwyo.edu or Ganor at sganor@umn.edu.
Contact Us
Institutional Communications
Bureau of Mines Building, Room 137
Laramie
Laramie, WY 82071
Phone: (307) 766-2929
Email: cbaldwin@uwyo.edu