Contact Us
Institutional Communications
Bureau of Mines Building, Room 137
Laramie
Laramie, WY 82071
Phone: (307) 766-2929
Email: cbaldwin@uwyo.edu
UW Percussion Festival Presents Featured Concert April 16
April 14, 2022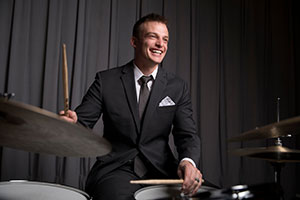 Andy Wheelock
The University of Wyoming Percussion Festival will highlight percussion music from around the world in the featured concert at 5:30 p.m. Saturday, April 16, in the Buchanan Center for the Performing Arts concert hall.
Nationally recognized percussionists and educators Carl Dixon, Greg Harris and Andrew Spencer will collaborate with Assistant Professor Andy Wheelock, the UW Department of Music's percussion area coordinator, in the featured concert. The event is free and open to the public.
The percussion music will "explore the connections and blur the lines" among Afro-Cuban, Brazilian, classical, electronic, jazz and modern percussion traditions. The concert will feature solos and ensemble performances by festival participants. To view the program and complete biographies of the guest musicians, click here.
Wheelock leads the Jazz Ensemble II; teaches percussion methods and lessons; and directs the UW Percussion Ensemble, for which he regularly composes. He is an active jazz drummer and percussionist who has performed with numerous notable musicians. Wheelock has performed with the Ben Markley Quartet, the Gonzalo Teppa Quintet, the Dimitrije Vasiljevic Quintet and the UW jazz faculty. His music is from a wide variety of genres, including jazz, classical, Afro-Cuban, hip-hop, Brazilian, funk, gospel and traditional African folk music.
Dixon is a percussion lecturer at the University of Colorado-Boulder and director of the Boulder Samba School and Bateria Alegria, a Brazilian percussion ensemble. Dixon's arrangements of traditional rhythms found in Brazil's samba schools and blocos have been performed by university and community ensembles nationwide. He performs in concert halls, jazz clubs, dance parties, festival stages and street parades.
Harris is a multi-instrumentalist in Denver, Colo., and a freelance musician who has performed nationally and internationally. Harris also teaches electronic music and percussion at the University of Colorado-Denver; jazz vibraphone at Metropolitan State University of Denver; jazz and percussion at Denver School of the Arts and the Colorado Conservatory for the Jazz Arts; and as piano instructor and music theory teacher at Red Rocks Community College.
Spencer, a professor of percussion at Central Michigan University, has performed as a soloist in Canada, Costa Rica, Japan, Poland and the U.S. As an active recitalist and clinician, he is timpanist for the Lansing Symphony Orchestra and principal percussionist for Midland Symphony Orchestra. Spencer also has performed in numerous chamber ensembles and orchestras throughout the U.S.
For more information, call Kathy Kirkaldie, UW Fine Arts coordinator, at (307) 766-2160 or email kirisk@uwyo.edu.
Contact Us
Institutional Communications
Bureau of Mines Building, Room 137
Laramie
Laramie, WY 82071
Phone: (307) 766-2929
Email: cbaldwin@uwyo.edu