Contact Us
Institutional Communications
Bureau of Mines Building, Room 137
Laramie
Laramie, WY 82071
Phone: (307) 766-2929
Email: cbaldwin@uwyo.edu
UW Professor Publishes Article on Online Higher Education After COVID-19
April 25, 2022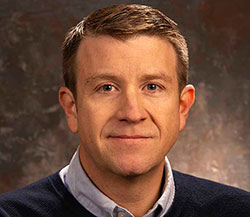 Richard Carter Jr.
A University of Wyoming faculty member served as co-author and researcher for a recently published article that discusses the implications of online higher education in the post-COVID-19 era.
Richard Carter Jr., an assistant professor in the UW College of Education, helped write and edit "Academia's responses to crisis: A bibliometric analysis of literature on online learning in higher education during COVID-19" in the British Journal of Educational Technology, a leading journal in the field of educational technology. The article aims to support students and educators in online higher education through timely research.
"We are really proud to see the depth and breadth of academia's response to the crisis," Carter says. "This article focuses on analyzing, visualizing and interpreting how higher education scholars rapidly disseminated strategies and resources … The true outcome was to honor the efforts of scholars from around the world."
Among the article's key points is that instructors and other educators need to put innovative teaching strategies and methods at the forefront of their lessons and planning. The article also discusses open source journals and their effectiveness for providing educators access to articles that provide specific tips, strategies and tools. Additionally, the authors say further research is needed to explore how to support and assist in online learning for students with disabilities.
Others contributing to the publication were Ling Zhang, of the University of Kansas; Xueqin Qian, of Woodland Elementary School in Olathe, Kansas; Sohyun Yang, of Fort Hays State University; James Rujimora, of the University of Central Florida; and Shuman Wen, of Rutgers University.
Carter is passionate about furthering discourse and research during the COVID-19 pandemic for online higher education. After noticing how many journals released special issues regarding strategies for teaching higher education in a digital space, he and his colleagues felt it necessary to join the conversation.
"Through open access journals and articles, teachers in Wyoming can access resources and learn from other teachers and researchers from diverse backgrounds," Carter says. "Moving forward, we do need better systems or resources for all educators, researchers and other stakeholders to support all students with and without disabilities."
For more information, call Carter at (307) 766-2370 or email rcarter8@uwyo.edu.
Contact Us
Institutional Communications
Bureau of Mines Building, Room 137
Laramie
Laramie, WY 82071
Phone: (307) 766-2929
Email: cbaldwin@uwyo.edu