Contact Us
Institutional Communications
Bureau of Mines Building, Room 137
Laramie
Laramie, WY 82071
Phone: (307) 766-2929
Email: cbaldwin@uwyo.edu
UW Scientist's Carbon Capture Research Cited in Latest International Climate Report
April 18, 2022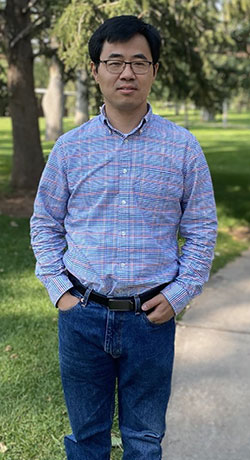 Haibo Zhai
Research conducted by a University of Wyoming scientist has gained new international attention regarding mitigation of climate change by capturing and storing carbon.
Four research papers by Haibo Zhai, the Roy and Caryl Cline Chair of Engineering, Environment and Natural Resources and an associate professor in UW's Department of Civil and Architectural Engineering and Construction Management, are referenced in the Intergovernmental Panel on Climate Change (IPCC) Sixth Assessment Report.
Carbon capture and storage is regarded as a key technology that can deeply reduce carbon dioxide emissions from fossil fuel power and industrial processes. Wyoming, the nation's No. 1 coal producer, is a leader in advancing technological and policy changes for carbon capture and storage.
Investments in carbon capture and storage are among many measures recommended by the IPCC to address climate change.
At UW, Zhai has developed a computational laboratory for low-carbon energy and environmental sustainability, which promotes a long-term vision for the role of both technology and policy to cope with complex energy, environmental and natural resource challenges. His four research papers cited in the IPCC report:
-- Assess hybrid cooling systems for coal- and natural gas-fired power plants with and without carbon capture and storage.
-- Compare the energy supply models of the world's only two operational commercial-scale coal-fired power plants using carbon capture and storage.
-- Explore the cost of carbon capture and storage for coal-fired power plants in China, the world's top carbon emitter.
-- Explore management of China's coal-fired power plants to address multiple environmental objectives.
"With policy and economic incentives for carbon capture and storage, fossil fuel abatement can play a firm role in the energy transition to a low-carbon or carbon-free future," Zhai says. "Carbon capture and storage should be viewed as one of the major mitigation options in climate action plans toward an equitable, reliable, flexible and affordable power sector."
Before coming to UW in fall 2020, Zhai was an associate research professor of engineering and public policy at Carnegie Mellon University, where he is now an adjunct associate professor. He holds a Ph.D. in environmental engineering from North Carolina State University.
Contact Us
Institutional Communications
Bureau of Mines Building, Room 137
Laramie
Laramie, WY 82071
Phone: (307) 766-2929
Email: cbaldwin@uwyo.edu