Contact Us
Institutional Communications
Bureau of Mines Building, Room 137
Laramie
Laramie, WY 82071
Phone: (307) 766-2929
Email: cbaldwin@uwyo.edu
UW Symphony Orchestra to Present Concertmaster Fund Recital April 14
April 8, 2022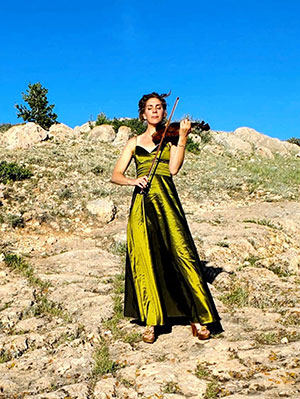 Brittany Kubiak
The University of Wyoming Symphony Orchestra (UWSO) and the Symphony Association will host the annual Concertmaster Fund Recital at 7 p.m. Thursday, April 14, in the Buchanan Center for the Performing Arts recital hall.
Tickets are $40 for the in-person event and $20 to view the concert online. To purchase tickets, visit the Performing Arts box office or the Wyoming Union information desk, call (307) 766-6666 or go online at www.uwyo.edu/finearts. For the online tickets, attendees will be given the access website to view the performance.
The concert originally was scheduled for Thursday, Feb. 3, but was postponed because of a date change of a UW Cowboys basketball game, which was at the same time. Tickets for the original performance will be honored on the new date. However, symphony patrons who would like a refund can contact the Performing Arts box office.
UWSO co-concertmasters Saúl Fuego Garcia and Brittany Kubiak will be accompanied by pianist Nathália Kato. The program includes music by Bach, Chen Yi, Debussy, de Falla, Li Huanzhi and Ponce/Heifetz. It ends with duets by Bartók.
The recital is a fundraising event for the Charles Moore, M.D., Concertmaster Fellowship, which supports the UWSO concertmaster position.
"It is a critical funding need for the orchestra, and we sincerely hope you will attend," says Michael Griffith, UWSO music director.
In-person attendees will receive a special gift from the Symphony Association for supporting the organization.
For more information, email Griffith at symph@uwyo.edu.
Contact Us
Institutional Communications
Bureau of Mines Building, Room 137
Laramie
Laramie, WY 82071
Phone: (307) 766-2929
Email: cbaldwin@uwyo.edu