Contact Us
Institutional Communications
Bureau of Mines Building, Room 137
Laramie
Laramie, WY 82071
Phone: (307) 766-2929
Email: cbaldwin@uwyo.edu
Wendy Luna Garcia Selected as Top Graduating UW Student
April 27, 2022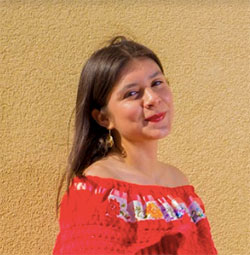 Wendy Luna Garcia
As a first-generation student, Wendy Luna Garcia, from Wheatland, has made the most of her opportunities at the University of Wyoming.
She is a high-achieving student who has accomplished many research and writing projects focused on timely subjects, such as social justice, the environment and women's rights, while also conducting meaningful research on campus. She is active both at UW and in various communities that affect the welfare of people.
Those qualities helped make Luna Garcia one of three recipients of UW's Tobin Memorial and Rosemarie Martha Spitaleri Outstanding Undergraduate Award as an outstanding graduating student. The award recognizes students for exhibiting the finest leadership, academic integrity and citizenship qualities.
Also receiving the award were Hannah Rhymes, from Oklahoma City, Okla., and Connor Rindler, from Laramie.
Luna Garcia will graduate with a B.A. degree in international studies, with minors in honors, Latina/o studies and creative writing.
Most impressive is her ability to research, synthesize and process information. Luna Garcia is a diligent student who is involved in every aspect of college life, according to those who nominated her for the award. She was elected to serve in student leadership roles because of her attention to responsibility and accountability, says Cecilia "CC" Aragón, a UW theater and dance professor and the Wyoming Latina Youth Conference executive director.
"I strongly believe that Wendy has given 100 percent for her four years at UW," Aragón says. "She has demonstrated academic excellence and achievement. Through her leadership, Wendy has demonstrated utmost character, citizenship and stewardship to all facets of life at UW."
She has been involved in the United Multicultural Council, Define America, the Movimiento Estudiantil Chicanx de Aztlan student group and the Service, Leadership and Community Engagement program. She participated in a project on the Pine Ridge Reservation; worked virtually with Nido de Vida, an Ecuadorian sustainability project, where she learned about alternative food systems, resource management and the archival of flora and fauna on the local farm; and served as a peer mentor for the Wyoming Latina Youth Conference.
"Observing her growth in academia time and again, she has demonstrated a diligent work ethic. And she is an exceptional student and an excellent young scholar in the making," Aragón adds.
Luna Garcia has distinguished herself in the classroom, through independent research and contributions made to communities within and beyond campus. Notably, as a McNair Scholar, she proved herself capable of producing and presenting original research, and engaging in interdisciplinary research and community organization.
Among her original research, which showed her versatility, was producing "Mexico's Golden Age of Cinema: Reflections of Womanhood through Time" during the UW McNair Scholars Research Symposium. The McNair program encourages underrepresented groups and first-generation students to seek doctoral degrees. She received high praise for her work and was selected to present her project during the annual College of Arts and Sciences Honors Convocation.
"Wendy serves as an inspiration to other first-generation students," say McNair Scholars Program Director Elizabeth Nysson and Susan Stoddard, the program's assistant director. "Wendy has demonstrated strength in her academics and in her character. Wendy has shown a sincere dedication to her studies and to the UW community."
Luna Garcia is proudest of her diverse work with underrepresented groups.
"My background encapsulates a diverse background, both in terms of the communities I am a part of and of the subjects that I have studied and worked with," says Luna Garcia, who is applying to graduate school. "I found avenues to success by immersing myself in my community and seeking help from services offered at UW."
Contact Us
Institutional Communications
Bureau of Mines Building, Room 137
Laramie
Laramie, WY 82071
Phone: (307) 766-2929
Email: cbaldwin@uwyo.edu