Contact Us
Institutional Communications
Bureau of Mines Building, Room 137
Laramie
Laramie, WY 82071
Phone: (307) 766-2929
Email: cbaldwin@uwyo.edu
Rural Health Expert Named Dean of UW College of Health Sciences
May 13, 2022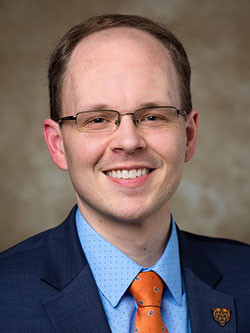 Jacob Warren
An epidemiologist and professor whose career has focused on community and rural health issues has been named the dean of the University of Wyoming's College of Health Sciences.
The appointment of Jacob Warren, who for nearly a decade has directed the Center for Rural Health and Health Disparities at the Mercer University School of Medicine in Macon, Ga., was approved Thursday by the UW Board of Trustees. He will take the reins of the college July 1.
"Dr. Warren's background in community and rural health will serve him well as he leads the College of Health Sciences to fulfill its ongoing mission of conducting research and educating essential health care professionals who serve the citizens of our rural state," Provost and Executive Vice President Kevin Carman says. "We're delighted he has accepted this appointment, which is the culmination of a robust nationwide search that yielded a strong group of finalists."
While directing Mercer's Center for Rural Health and Health Disparities since 2013, Warren has held that university's Rufus C. Harris Endowed Chair in Rural Health and Health Disparities. He also previously served as the Mercer University School of Medicine's associate dean for diversity, equity and inclusion and as vice chair of the Department of Community Medicine.
After graduating with a Ph.D. in epidemiology from the University of Miami (Fla.) School of Medicine in 2006, Warren was a research assistant professor of public health in the College of Osteopathic Medicine at Nova Southeastern University in Fort Lauderdale, Fla., then an assistant professor of epidemiology at Georgia Southern University in Statesboro, Ga., where he was the joint executive director of the Rural Health Research Institute -- a National Institutes of Health Center of Excellence. He joined Mercer's School of Medicine in 2013 as an associate professor of community medicine and was subsequently promoted to full professor.
Warren's work in rural health is nationally recognized: In 2016, he received the Outstanding Researcher of the Year and Outstanding Program of the Year awards from the National Rural Health Association and, earlier this year, he was appointed by the U.S. secretary of health and human services to the federal Advisory Committee on Infant and Maternal Mortality.
A recipient of more than $13 million in federal grant funding, Warren has led programs, among many others, aimed at eliminating disparities in maternal and infant mortality; preventing opioid overdose; responding to mental health needs during the COVID-19 pandemic; addressing diabetes, hypertension and prostate cancer; and reducing childhood obesity. He has published extensively in the academic literature, including writing books titled "Rural Public Health," "Rural Mental Health" and "Health Equity."
"I am honored to have been named as the next dean of the College of Health Sciences," Warren says. "The college is uniquely poised to become the national leader in training rural health professionals and in conducting research that meaningfully impacts rural communities, and I look forward to working with the outstanding faculty, staff and students at the University of Wyoming to improve the health and well-being of Wyoming's residents."
Warren also holds a Master of Business Administration, a Bachelor of Science in biology and a Bachelor of Science in mathematics, all from Georgia Southern University.
Contact Us
Institutional Communications
Bureau of Mines Building, Room 137
Laramie
Laramie, WY 82071
Phone: (307) 766-2929
Email: cbaldwin@uwyo.edu