Contact Us
Institutional Communications
Bureau of Mines Building, Room 137
Laramie
Laramie, WY 82071
Phone: (307) 766-2929
Email: cbaldwin@uwyo.edu
Smith Named UW VP for Governmental Affairs, Community Engagement
July 25, 2022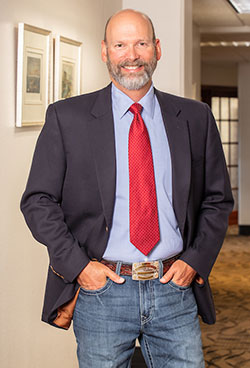 Mike Smith
An attorney with extensive legislative and public relations experience has been appointed as the University of Wyoming's vice president for governmental affairs and community engagement.
Mike Smith, who grew up in Laramie and holds two degrees from UW, is scheduled to assume the position Aug. 15. His appointment was approved by the UW Board of Trustees during its recent meeting in Pinedale.
"We're excited that Mike is joining our team to lead our engagement with government policymakers and promote UW to our various constituencies to enhance our ability to fulfill the university's mission and goals," UW President Ed Seidel says. "His experience working with the Wyoming Legislature, his legal expertise, his understanding of the state and his passion for the university are a great combination that will help us continue moving forward."
From 2000-07 and from 2019 to present, Smith has been a practicing attorney in several law firms, including two stints at the firm of Holland & Hart in Cheyenne. His experience includes representing clients before the Wyoming Legislature. From 2007-2019, he was the director of regulatory policy and then the manager of regulatory affairs for the High Plains Division of QEP Resources Inc., an independent oil and gas company that had a significant presence in Wyoming at the time.
"I am honored and humbled by this opportunity to return to the university I have loved my entire life. UW has played a pivotal role in the development and successes of Wyoming from before we were a state and must continue to help Wyoming's citizens, industries and elected leaders meet the challenges of the future head-on," Smith says. "I am excited to work with President Seidel and his team to facilitate that collaborative effort between the people of Wyoming and their university."
Smith, who grew up in Laramie when his father worked for UW, received a bachelor's degree in secondary education from UW in 1991. While at UW, he spent a semester working as an intern for U.S. Sen. Craig Thomas in Washington, D.C. He then became a legislative assistant for the senator on education and environmental issues -- a position Smith held for five years -- before returning to UW for law school. He received his law degree in 1999.
A resident of Cheyenne since 1999, Smith chairs the Public Relations Committee for Cheyenne Frontier Days, leading 300 volunteers responsible for hosting media, special guests, sponsors and the public; coordinating internal and external messaging; and acting as a spokesperson for the world's largest outdoor rodeo and Western celebration.
In his new role at UW -- in addition to serving as the university's chief liaison to local, state and federal governments through the Office of Governmental Relations -- Smith will oversee Institutional Marketing and Communications, and the Office of Engagement and Outreach. The unit, as a whole, is called the Division of Governmental Affairs and Community Engagement.
Contact Us
Institutional Communications
Bureau of Mines Building, Room 137
Laramie
Laramie, WY 82071
Phone: (307) 766-2929
Email: cbaldwin@uwyo.edu