Contact Us
Institutional Communications
Bureau of Mines Building, Room 137
Laramie
Laramie, WY 82071
Phone: (307) 766-2929
Email: cbaldwin@uwyo.edu
UW Research Scientist Part of Pecora Group Award
November 4, 2022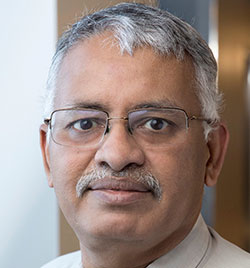 Ramesh Sivanpillai
A University of Wyoming senior research scientist is part of the AmericaView consortium that was recently honored with a 2021 William Thomas Pecora Group Award from the U.S. Geological Survey (USGS) and NASA.
Ramesh Sivanpillai, with UW's Wyoming Geographic Information Science Center (WyGISC), is part of the AmericaView consortium that was recognized for advancing Earth observation education through remote-sensing science, applied research, workforce development, technology transfer and community outreach.
"Professionally, this award is a great recognition for AmericaView's work to promote Landsat science and applications. WyomingView and the rest of the state views have contributed to the success of the national program," Sivanpillai says. "Personally, I'm humbled that the work done by so many of us in our own states was rewarded with such a big recognition."
The annual award has been presented since 1974 and honors the memory of William Pecora, former USGS director and undersecretary for the Department of the Interior. Awards consisting of a citation and a plaque were presented during the 22nd annual William T. Pecora Memorial Remote Sensing Symposium in Denver Oct. 26.
"Each year, they select an outstanding remote-sensing expert for the individual award and an organization or team for the group award," Sivanpillai explains.
AmericaView was formed in 1996 to promote widespread use of Landsat data through educational outreach, data distribution and applied research projects. AmericaView is organized by states, which are known as state views, Sivanpillai says. There are currently 41 state views in the U.S., and each view takes the name of its respective state. An academic institution from each state serves as the lead institution and conducts activities to achieve AmericaView goals.
In 2002, Sivanpillai was hired to manage WyomingView to promote remote-sensing science, technology and applications.
"Over the years, I have trained 90-plus WyomingView interns (mostly UW undergraduate students), completed several applied research projects and conducted K-8 outreach activities," Sivanpillai says. "Similarly, other state views focus on one or more AmericaView goals."
Almost all WyomingView interns used data collected by Landsat satellites for mapping and tracking changes in crop fields, rangelands, forests and water bodies in Wyoming and 14 other states. These projects highlighted the benefits of Landsat data for monitoring natural and managed resources.
From 2004-2014, Sivanpillai served on the AmericaView Board of Directors as secretary, vice chair and chair.
This recognition marks his second Pecora Group Award.
Sivanpillai was part of the 2017 Pecora Project Manager Group Award that came from the International Charter Space and Major Disasters. For this award, Sivanpillai was recognized by the charter team for his volunteering to serve as a project manager for the 2011 floods in the Midwest that impacted several states -- including Arkansas, Illinois, Missouri and Kentucky -- along the Mississippi River. 
Sivanpillai was recently tapped by the charter to be the project manager for its hurricane response efforts after Hurricane Fiona hit the Dominican Republic. The USGS initiated the response and nominated Sivanpillai as the project manager.
As project manager, Sivanpillai's job was to evaluate the quality of the satellite images and oversee data collection and map production before sending the information to the end users and agencies in the Dominican Republic.
Contact Us
Institutional Communications
Bureau of Mines Building, Room 137
Laramie
Laramie, WY 82071
Phone: (307) 766-2929
Email: cbaldwin@uwyo.edu