Contact Us
Institutional Communications
Bureau of Mines Building, Room 137
Laramie
Laramie, WY 82071
Phone: (307) 766-2929
Email: cbaldwin@uwyo.edu
Global Energy Executive to Speak at UW Feb. 23-24
February 13, 2023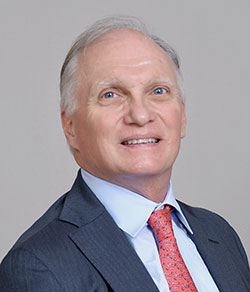 Harold "Skip" York
Harold "Skip" York, senior vice president and chief energy strategist for Turner, Mason & Co., will speak at multiple events at the University of Wyoming College of Business and the School of Energy Resources (SER) Thursday and Friday, Feb. 23-24.
Interested students, members of the campus community and the public are invited to hear York speak at the SER Distinguished Speaker Series lunch presentation from noon-1 p.m. Friday, Feb. 24, in the UW Energy Innovation Center's Encana Auditorium. He also will speak to UW students about energy economics and corporate strategies in an era of energy transformation, innovation and uncertainty.
An accomplished energy business professional and UW alumnus originally from Cheyenne, York has an extensive resume in advising global corporations on strategy formulation, competitiveness, multibillion-dollar mergers, acquisitions and divestitures.
In his current position, he is responsible for looking at strategic directions in the energy industry, with specific expertise in global oil and gas asset portfolio optimization and developing viable business models for new energy companies.
"We are so fortunate to have someone of Mr. York's caliber on campus to speak about his experiences," says Ben Cook, senior assistant dean of the UW College of Business. "Energy is a major driving factor in our state and, by providing an economic perspective, Skip will help students become more attuned to the financial implications and opportunities of current and future scenarios in natural resource development."
York graduated from UW in 1986 with a degree in economics, and he holds a Ph.D. in the same field from the University of Virginia. Before his current role, he was recently the head of commodity strategy-petroleum for BHP. He has additional industry experience with ExxonMobil and management consulting with McKinsey & Co., Charles River Associates and Wood Mackenzie.
York has been deeply invested in his Wyoming roots, supporting multiple scholarships for students in both the College of Business and SER, as well as being a guest lecturer and mentor.
"This is a wonderful opportunity for current students on campus to see all that can be accomplished with a degree from the University of Wyoming," says Teddi Freedman, a director of development for the UW Foundation. "Mr. York has had a tremendous career at the intersection of energy and business and continues to provide outstanding support to his alma mater through his and his wife's philanthropy. We are honored to host him once again to campus and are grateful for his continued engagement with up-and-coming UW graduates."
Contact Us
Institutional Communications
Bureau of Mines Building, Room 137
Laramie
Laramie, WY 82071
Phone: (307) 766-2929
Email: cbaldwin@uwyo.edu