Contact Us
Institutional Communications
Bureau of Mines Building, Room 137
Laramie
Laramie, WY 82071
Phone: (307) 766-2929
Email: cbaldwin@uwyo.edu
Soprano Tami Petty to Perform Feb. 15 at UW
February 7, 2023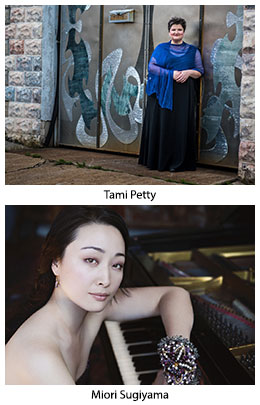 An evening of opera is planned Wednesday, Feb. 15, at the University of Wyoming. 
Soprano Tami Petty and pianist Miori Sugiyama will perform at 7:30 p.m. in the Buchanan Center for the Performing Arts recital hall. 
Tickets are $5. To purchase tickets, visit the Performing Arts box office, call (307) 766-6666 or go online at www.tix.com/ticket-sales/uwyo/6984. 
A recent award winner of the Joy in Singing Competition, Petty made her New York City solo recital debut in 2015. She has performed with the American Symphony Orchestra at Carnegie Hall; the New York Philharmonic at Avery Fisher Hall; and Voices of Ascension at Alice Tully Hall, for which The New York Times hailed her "powerful soprano" and The Classical Music Network noted, "Such a beauty and purity of tone is so rare that I could only listen in ethereal pleasure." 
Petty's performances include soprano solos in Carl Orff's "Carmina Burana" with Lehigh Choral Arts; Beethoven's "Missa Solemnis" with the Choral Society of Grace Church in New York City; and Benjamin Britten's "War Requiem" with the Eastman Philharmonia and at the American Choral Directors Association's Eastern Division Concert. 
Sugiyama is an active soloist and collaborative artist in the U.S. and abroad. Recent highlights include solo debut recitals at Weill Recital Hall at Carnegie Hall, Merkin Hall and Bargemusic, as well as appearances at Lincoln Center, Galapagos Art Space and on Aspen Public Radio. 
Praised by The New York Times for her performance of the Charles Ives songs, Sugiyama is a regular member of the Brooklyn Art Song Society. She has performed with the society on projects such as "The Hugo Wolf Project," "In Context" and "Schubert: The Last Year." 
She is the founder of Half Moon Music Series, a chamber music and art song series dedicated to exploring works by female composers. 
For more information, call Kathy Kirkaldie, UW Fine Arts coordinator, at (307) 766-2160 or email kirisk@uwyo.edu.
Contact Us
Institutional Communications
Bureau of Mines Building, Room 137
Laramie
Laramie, WY 82071
Phone: (307) 766-2929
Email: cbaldwin@uwyo.edu