Contact Us
Institutional Communications
Bureau of Mines Building, Room 137
Laramie
Laramie, WY 82071
Phone: (307) 766-2929
Email: cbaldwin@uwyo.edu
UW's Barker to Present Steel Bridge Educational Webinar Series
March 7, 2023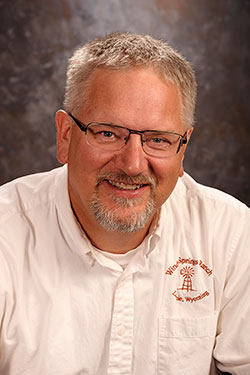 Michael Barker
Michael Barker, a professor of civil and architectural engineering at the University of Wyoming, will present the six-part webinar series "Steel Bridge Education Lectures: From Concept to Delivery" from March 20-April 5. The online lectures will take place Mondays and Wednesdays from 11 a.m.-noon.
The free webinar series will cover the many aspects of designing, fabricating and constructing steel bridges, which provide durable, efficient and sustainable infrastructure solutions. The webinar series is targeted to college students; faculty; county, state and federal bridge design professionals; steel producers; and others with an interest in steel bridges.
The lectures can be viewed live via the WyoLearn learning management system and will be recorded. To register, go here.
The webinar series is in collaboration with the Short Span Steel Bridge Alliance, as well as the American Iron and Steel Institute, the American Institute of Steel Construction and the National Steel Bridge Alliance. The Short Span Steel Bridge Alliance is a group of bridge and buried soil steel structure industry leaders who provide educational information on the design and construction of short-span steel bridges in installations up to 140 feet in length.
"Short-span bridges provide vital links within any infrastructure network. Yet, in the U.S., there are 188 million trips taken across a structurally deficient bridge each day," says Barker, who has more than 30 years of experience in bridge design and construction. "To fix our nation's deficient bridges, a new bipartisan infrastructure bill was passed, representing the single-largest dedicated bridge investment since the construction of the interstate highway system."
The Infrastructure Investment and Jobs Act, passed by Congress in November 2021, is expected to create millions of new jobs and demand to rebuild America's infrastructure. Students with knowledge of innovative solutions to fix the 224,000 bridges -- approximately 36 percent -- that need to be repaired or replaced will be in high demand, Barker says.
To earn a certificate of completion at the end of the series, participants must complete and pass a quiz after each lecture. The certificate can be used to build resumes or fulfill continuing education requirements.
For more information on the lecture series and course syllabus, go here.
For more information, call Barker at (307) 766-2916 or email barker@uwyo.edu.
Contact Us
Institutional Communications
Bureau of Mines Building, Room 137
Laramie
Laramie, WY 82071
Phone: (307) 766-2929
Email: cbaldwin@uwyo.edu