Wyoming Geographic Alliance
University of Wyoming | Department of Geography
Alliance News
April 1st, 2016
(Casper, Wyo.)-Thirty-six students from around Wyoming competed in the 28th State Geography Bee in Casper.  Any school in Wyoming that has students in grades 4-8 are eligible to register for the Geography Bee.
Six students must participate and one will take a qualifying test that is scored by National Geographic. The school winners are then invited to the State Bee.  Wyoming has the fewest participants nationwide and more students are needed to have this opportunity. Each State Bee can host 100 students. 
Winners of the Wyoming Bee were:
1st place: Degory Day, 7th grade - Evanston Middle School (he is the one praying in the top 10)
2nd place: Conrad Keevert, 8th grade - Lander Valley Middle School
3rd place: Preston Buehler, 6th grade - Osmond Elementary - Thayne
Degory received $100, the National Geographic book "The National Parks: An Illustrated History" and a medal. He will will advance to the nationals in Washington, DC on May 22-25.  The national champion will receive a $50,000 college scholarship and a lifetime membership to National Geographic Society.
One of the championship round question that was relevant to the 4-8th grade competitors was: In the newest Star Wars movie, The Force Awakens, desert scenes of the fictional planet of Jakku were filmed in a country that borders both Oman and Saudi Arabia. Name this country on the Persian Gulf.
Both of the boys in the championship round answered correctly - United Arab Emirates.
Great job Wyoming Students!
March 29th, 2016
2016 STUDY CANADA Summer Institute for K-12 Educators –
Across the Salish Sea: Canada-US Connections in the Pacific Northwest
June 27-July 1, 2016 in Seattle, WA (2N) and Victoria, BC (2N)
$650 Registration Cost – Multiple $250 Travel Awards and One $650 Tuition Award Available – http://www.k12studycanada.org/scsi.html
So that American students learn more about the world and continental history, the U.S. D.O.E.-designated Pacific Northwest National Resource Center on Canada offers the STUDY CANADA Summer Institute for K-12 Educators annually.  The renowned program has provided educators with an excellent foundation for teaching about our vital political, economic, environmental and cultural relationships with Canada for almost 40 years. Teachers from every state have learned about core social studies topics related to Canada—such as geography, history, government, and economics—from university faculty and other expert program staff. Beginning in 2015, a unique two-nation agenda was developed to highlight the ties that bind the US and Canada as cultural cousins, political neighbors, environmental stewards of the continent, and as trade partners with strong ties to Pacific Rim nations.   Important outcomes have always included gaining global perspectives of civic issues, receiving numerous resources for classroom use, and developing curricula that meet Common Core, C3 and state standards.
A draft agenda and detailed program guide with travel specifics about the program can be viewed online. Note that the $650 registration fee includes a choice of 3 WWU undergraduate quarter credits (C/AM 410) or 40 WA State-issued clock hours, 4N hotel accommodations (the downtown Sheraton Hotel in Seattle and the Empress Hotel in Victoria), daily breakfasts, two lunches and one dinner as well as ferry transportation across the Salish Sea. Multiple $250 travel awards and one Paul Storer Memorial Award (that rebates the $650 tuition amount) are available—eligibility rules and application forms are offered online.
To register, simply follow the hyperlink at http://www.k12studycanada.org/scsi.html for immediate online registration OR download the registration form online and mail it with full payment to Western Washington University as instructed on the form. Once registered, if eligible, you can apply separately to me for financial support. All travel award applicants are automatically entered to win the Paul Storer Memorial Award.
The US Department of Education (USDOE) supports "STUDY CANADA" with funding from a Title VI grant. Participant costs are subsidized by approximately $1,000 per person.  The program has been offered by WWU's Center for Canadian-American Studies, a USDOE-designated National Resource Center for Canada in the United States (in consortium with the University of Washington's Canadian Studies Center), since 1978.
December 8th, 2014
UW Geography Professor and WGA Steering Commitee member Dr. Gerald Webster has contributed to an "Atlas of the 2012 Elections." 
Take a look at the press release from the University of Wyoming News!
October 8th, 2014
Germaine Wagner takes Giant Traveling Map of Africa to the Boys and Girls Club of Central Wyoming!
October 5th, 2013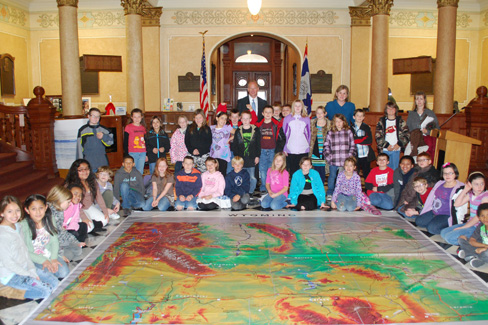 Recently, Governor Matt Mead signed a proclamation in honor of Wyoming's Geography Day at the State Capitol. Geography students from St. Mary's and Alta Vista were in attendance. The Governors Office has been gracious enough to share a few of their photos with us. Thanks Governor Mead, and lets make sure that geography remains an important subject in our statewide curriculum!
Also, the WGA is currently updating our membership records.  If you would like to join the Alliance, or are already a member but have not updated your information, please send Kirk Scheffler (wga@uwyo.edu) an email containing your name, your preferred email address, what school you work at, what grade and subject you teach, your school's address (including City, State, and Zip), and your preferred telephone number you can be reached at, and we will add you to our membership list!  You will receive information about any sales on educational and instructional materials we find, website's of interest, and available alliance programs.