Welcome to the Wyoming Geographic Alliance
The Wyoming Geographic Alliance (WGA), founded in 1990, is one of the 52 state-based alliances sponsored by the National Geographic Society. The goal of the WGA is to improve geography education in Wyoming. The WGA provides professional development programs for teachers, publishes a newsletter, distributes teaching materials, acts as a clearinghouse for curriculum materials and organizes National Geographic Awareness Week in Wyoming. The WGA is housed at the Department of Geography of the University of Wyoming.
2014-2015 WGA Goals:
Work with the UW Education Department to train pre-service secondary and elementary teachers to be WGA Teacher Consultants (TCs).
Collaborate with the Wyoming State Department of Education to have input into the Social Studies Common Core Standards
Continue legislative outreach
Work with the UW Foundation to develop successful partnerships
Continue to develop a relationship between Wyoming teachers and the Colorado Council for the Social Studies
Continue the partnership with WYGISC at UW (Wyoming Geographic Information Science Center)
Post teacher-created lesson plans on the WGA website
Quick Links
National Geographic Lesson Plans
WGA Lesson Plans
Jobs and Careers in Geography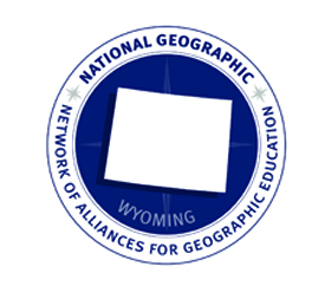 Connect with education leaders from around the world by attending the 2015 National Conference on Geographic Education, August 6-9 at the JW Marriot in downtown Washington, DC. Each year hundreds of educators (K -12 & University) attend the NCGE annual meeting to exchange ideas, research, resources, and best practices in geography education. This year we also celebrate 100 years of the National Council for Geographic Education working to support and enhance geographic literacy across the country. Visit www.ncge.org for more information or to enroll today!