Wyoming Family to Family Health Information Center
1000 E. University Ave. Dept. 4298
Laramie, WY 82071
Phone: (307) 766-2441
Toll Free: 1-888-989-9463
TeleType: (307) 766-2720
Fax: (307) 766-2763
Email:
jlausch@uwyo.edu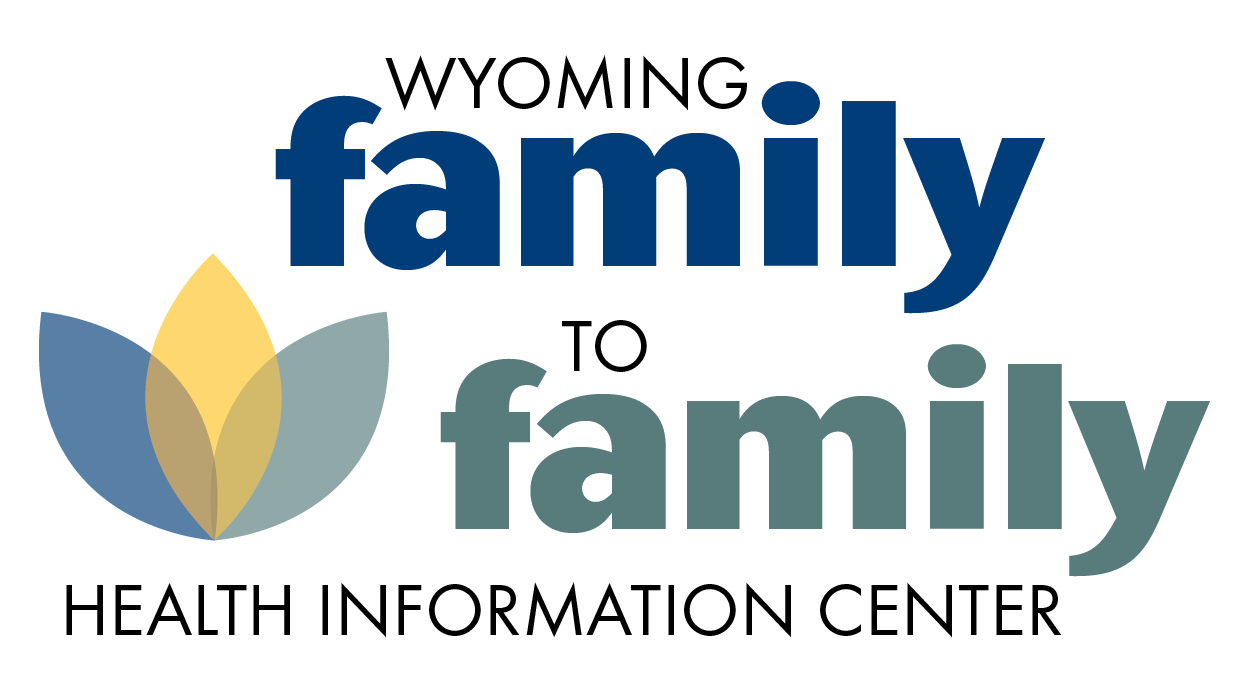 Additional Resources
A|B|C|D|E|F|G|H|I|J|K|L|M|N|O|P|Q|R|S|T|U|V|W|X|Y|Z
---
Assistive technology, medical devices, equipment
Wyoming Assistive Technology Resources (WATR)
Wyoming Augmentative Alternative Communication listserv
---
Diagnosis specific information
ADD
Attention Deficit Disorder Resources
Addiction
Centre for Addiction and Mental Health
Autism
Autism and realted conditions book list 
Brain Injury
Cancer
Cure Search for Children's Cancer    
Down Syndrome
National Association for Down Syndrome
Epilepsy
Mental Health                         
National Federation of Families for Children's Mental Health
National Institute of Mental Health
Obsessive Compulsive Disorder
Special Health Care Needs
Bright Futures from the American Academy of Pediatrics
Federation for Children with Special Needs
The Center for Children with Special Health Care Needs
Wyoming Department of Health Children's Special Health Program
---
Education: Childcare, schools, and community
Natrona County Schools Parent Resource Center
---
Financial assistance
Travel
Southwest Airlines provides tickets to hospitals around the country to distribute to families in need.  Transportation may be for the patient or their caregiver or both.  To find out if the hospital you need participates, visit Southwest and search by state and then by participating hospitals.
---
Health management
---
Insurance and Affordable Care Act
ACA and Developmental Disabilities
Kid Care CHIP-The Children's Health Insurance Program (CHIP) provides free or low-cost health coverage to eligible Wyoming children and teens.
Family Voices Affordable Care Act Guide
Guide for Purchasing Health Insurance for Children with Special Health Care Needs
Healthy Tribes-Information on the ACA for American Indian and Alaskan Native healthcare
National Disability Navigator Resource Collaborative-Factsheets on the ACA and disability issues
Project Healthcare Consumer Advocates
Cheyenne Regional Institute of Population Health will help "Enroll Wyoming," a statewide effort to reach out to the uninsured in Wyoming. They plan on reaching out to the uninsured population through hospitals, safety-net providers, and others to inform people of their coverage options and facilitate enrollment.
Contact information
Phyllis Sherard, PhD
Population Health Executive
Phone: (307) 633-6656
E-mail: phyllis.sherard@crmcwy.org
Wyoming Senior Citizens, Inc. is a non-profit that is working to provide eligible citizens with information about programs that can help them enroll in health care. Counselors from the group will provide public information at libraries, senior centers, town halls, etc., and focus on eligible populations in the rural, frontier, and farming communities in Fremont, Hot Springs, Washakie, Big Horn, Carbon, Natrona, Converse, Goshen, and Laramie Counties.
Contact information
Herb Wilcox, Executive Director
106 West Adams
Riverton, WY 82501
Phone: (307) 856-6880
Fax: (307) 856-4466
Toll Free: (800) 856-4398 (Riverton)
(877) 634-1005 (Cheyenne)
(877) 634-1006 (Casper)
---
Medical Home
National Center for Medical Home Implementation
---
News
---
Parents, guardians, and siblings: Support, leadership, and advocacy
Advocacy Atlas--Accessible Tools for Leadership and Advocacy Success from the Genetic Alliance
Center for Parent Information and Resources
List of Hard to Learn Acronyms for Parents
---
Recreation
iCan Shine-Quality learning opportunities in recreational activities for individuals with disabilities by creating an environment where each person is empowered to maximize their individual abilities.
---
Transition for young adults
Boggs Center on Developmental Disabilities--Being a Healthy Adult:How to Advocate for your Health and Health Care
VIDEO--Becoming an adult:Taking responsibility for your medical care
---
Wyoming family resources
Project Healthcare Consumer Advocates
Wyoming Governor's Council on Developmental Disabilities  
Wyoming Association of Mental Health and Substance Abuse Centers  
Wyoming Department of Family Services
Wyoming Department of Community and Public Health
Wyoming Department of Health Children's Special Health Program
Wyoming Behavioral Health Division
Wyoming Institute for Disabilities
Youth Alternatives Program (Cheyenne)
---
A|B|C|D|E|F|G|H|I|J|K|L|M|N|O|P|Q|R|S|T|U|V|W|X|Y|Z