Partnership Conferences and Meetings
Along with putting on its own meetings and conferences, the Partnership helps coordinate and sponsor other conferences for Wyoming educators. Learn more about the meetings and conferences below!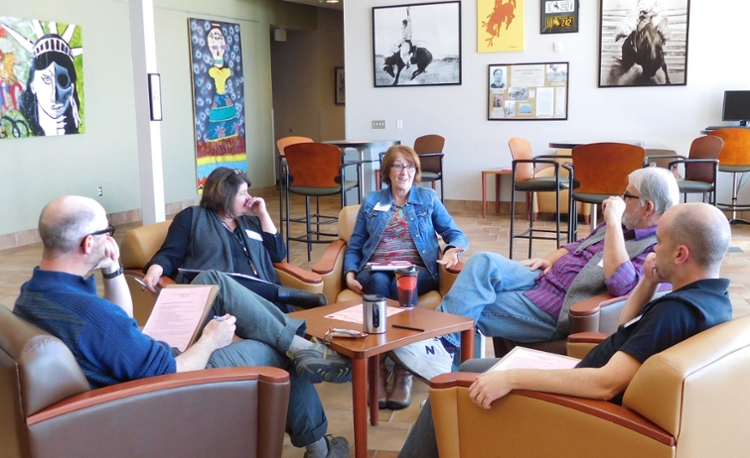 WY Academic Transition Meetings
Started in 2006, the Lost in Transition Initiative, renamed the Wyoming Academic Transition Initiative,brings together secondary and post-secondary educators and administrators to improve student success as students transition from high school to higher education. Each year, the Partnership holds meetings for English/language arts, life sciences, mathematics, social sciences, and world languages.  The 2017-2018 meeting schedules coming soon!

To learn more about the initiative's history and purpose as well as past meetings, click here.




UW Fall Education Literacy Conference
Sponsored by UW's College of Education Literacy Research Center and Clinic and the Partnership, the Literacy Conference is going on ten years! Each year, the conference brings educators from all institutional levels together at the University of Wyoming to explore different areas in literacy education.
Join us for the 2018 Literacy Conference, SMultimodal Literacies in P-16 Classrooms, September 21-22, 2017, at UW, Laramie. Learn more about the conference here.





ESL Conference
The
Wyoming English as a Second Language Conference
aims to provide forums for disseminating and sharing information among K-12 teachers, ESL teachers, administrators, community program teachers, and graduate students involved in teaching English as a second language.
Learn more.
Kids, Schools, and Communities that Help them Prosper
On June 25, 2015 in Laramie, the Partnership and the NNER held the Kids, Schools, and Communities that Help them Prosper conference. Participants shared multiple perspectives about the opportunity gap children and youth face, discussed different practices that increase opportunities for students, and celebrated the idea that it take a community to give a rich education to students.
The Partnership offered the opportunity to earn a mini-grant to fund a project that continued the ideas of the conference. The Partnership awarded two projects. Learn more about both projects.