Partnership Conferences and Meetings
Along with putting on its own meetings and conferences, the Partnership helps coordinate and sponsor other conferences for Wyoming educators. Learn more about the meetings and conferences below!
2021 Next Level Conference
Working with the Wyoming Department of Education, the WSUP brings award-winning teachers and their principals from Wyoming school to continue to develop leadership and policy skills. These staff members have been nominated by their leadership for accolades at the state level and have shown themselves to have great support in their respective institutions. During the summer prior to September 2021, they have met with "Level Up" program staff at WDE and one another to learn about some of the issues in education policy.
During this two-day campus visit, the education staff from around the state will get to tour some highlighted UW features and discuss some of the resources offered to the state. In addition, they will get to discuss realistic ethical dilemmas with experienced professionals and develop their own judgments based on key scenarios.
2019 ANNUAL NNER CONFERENCE
The National Network for Educational Renewal (NNER) is excited to announce our 2019 Annual Conference will take place in Ft. Collins, Colorado. This year's conference is co-hosted by NNER settings, The Wyoming School – University Partnership and Colorado State University.
Conference Theme: The Dynamics of Difference
Colloquially, we refer to difference in multiple ways. It can refer to a quality of being unlike or dissimilar from a standard or norm. It can refer to a disagreement or argument about something meaningful while also referring to the cause of the disagreement. Difference could even describe a significant change or effect on a situation. Invariably, we encounter difference on a daily basis, yet, we much less often consider how standards, norms, and meanings give context to these dynamics of difference.
As educators both within and outside of school contexts, we know educational spaces, from Pre-K through higher education, are a crucible for these dynamics of difference. John Goodlad, recognizing the important role of schools to embrace the interactions, relationships, and interdependencies of local cultures and environments, asserts how "education is corrupted when the schools are expected to inculcate belief in certain values and traditions rather than promote open inquiry into them" (p. 64). While difference and conflict are a natural state of affairs, schools and educators are often encouraged to deny, ignore, and marginalize problems rather than confront and resolve them.
For over 30 years, the National Network for Educational Renewal (NNER) has led a central role in emphasizing the importance, in a democratic society, of supporting schools to go beyond the custodial functions and regulations of schools so that we develop in our citizens the wisdom necessary to "sustain in good health the delicate social and political ecology of the complex, moral community that is the United States of America" (Goodlad, p. 153).
The dynamics of difference have been with us since our county was born. How might we examine our differences as a sign of our vitality? How can we demonstrate that difference gives testimony to our resiliency? How does difference actually support and sustain democratic life? The 2019 NNER Annual Conference invites you to explore these crucial questions and engage in conversation and research that explores the Dynamics of Difference.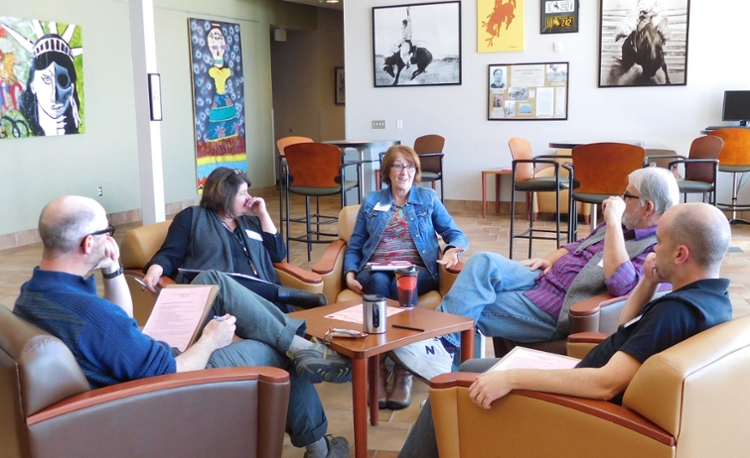 WY Academic Transition Meetings
Started in 2006, the Lost in Transition Initiative, renamed the Wyoming Academic Transition Initiative,brings together secondary and post-secondary educators and administrators to improve student success as students transition from high school to higher education. Each year, the Partnership holds meetings for English/language arts, life sciences, mathematics, social sciences, and world languages.  This was concluded in the 2017-2018 academic year.

To learn more about the initiative's history and purpose as well as past meetings, click to visit the WY Academic Transitions website.




UW Fall Education Literacy Conference
Sponsored by UW's College of Education Literacy Research Center and Clinic and the Partnership, the Literacy Conference is going on ten years! Each year, the conference brings educators from all institutional levels together at the University of Wyoming to explore different areas in literacy education.

Join the #UWyoLRCC for a one-day, virtual literacy institute, Reading and Writing Across the Academic Disciplines (PK-12), on September 18, 2021. Gain insight and discover new trends in literacy instruction from national experts, UW professors and local educators! The cost of attendance is $20 and only $10 for undergraduate students. Learn more and register: https://bit.ly/uw-literacy-institute.
If you are interested in learning more about the 2021 Fall Literary Conference, please check on the Fall Literacy Conference website.





ESL Conference
The
Wyoming English as a Second Language Conference
aims to provide forums for disseminating and sharing information among K-12 teachers, ESL teachers, administrators, community program teachers, and graduate students involved in teaching English as a second language.
Learn more.
Kids, Schools, and Communities that Help them Prosper
On June 25, 2015 in Laramie, the Partnership and the NNER held the Kids, Schools, and Communities that Help them Prosper conference. Participants shared multiple perspectives about the opportunity gap children and youth face, discussed different practices that increase opportunities for students, and celebrated the idea that it take a community to give a rich education to students.
The Partnership offered the opportunity to earn a mini-grant to fund a project that continued the ideas of the conference. The Partnership awarded two projects. Learn more about both projects.