WWAMI Medical Education
1000 E. University Ave.Dept 4238Health Sciences Bldg Rm 457Laramie, WY 82071Phone:(307) 766-2497   Fax:(307) 766-2492       Email:
wyo-wwami@uwyo.edu
WWAMI Medical Education
1000 East University Avenue
Department 4238
Health Sciences Bldg Rm 457
Laramie, WY 82071
Phone: (307) 766-2497
Fax: (307) 766-2492
Email:
wyo-wwami@uwyo.edu
WWAMI Curriculum
University of Washington School of Medicine has embarked on Curriculum Renewal and is now in the implementation stage. This new curriculum is a competency-based model with the following learning Phases:
A Scientific Foundations Phase
A Patient Care Phase
A Career Exploration and Focus Phase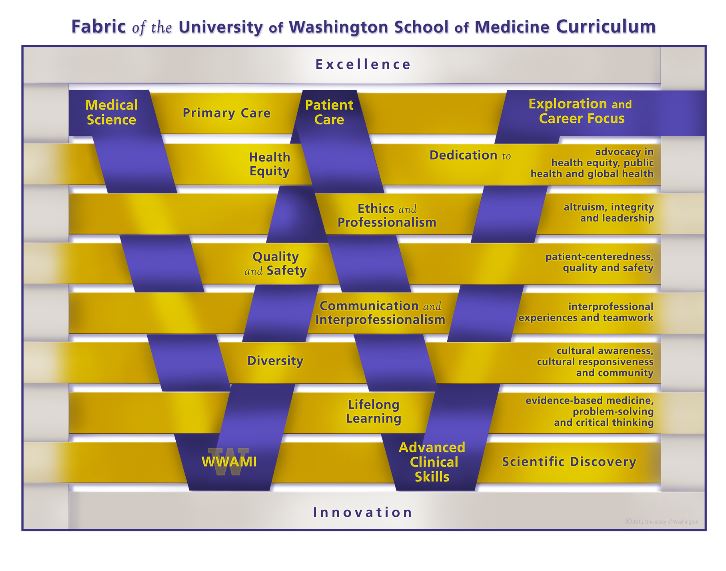 The entering class of 2015 will be the first students to complete the new school curriculum.  WWAMI Wyoming Students will spend the first 12 months at the University of Wyoming and then the next 6 months at the University of Washington in what is called the Foundations Curriculum: Foundations of Scientific Medicine, and Foundations of Clinical Medicine- providing an active and fulfilling education that integrates basic science with clinical medicine and helps to prepare the student for life-long learning. This new curriculum will primarily be active group learning which will take a variety of forms, in contrast to the previous curriculim which empasized lecture-based learning. The curriculum will now be in seven integrated blocks as well as the longitudinal Foundations of Clinical Medicine described below in the Curiculum Renewal Schematic.
Students begin their education with Orientation and Boot Camp in Laramie and Immersion Experience in Lander, Wyoming.
These first weeks will prepare the students to navigate medical school through training in clinicals skills that will prepare them to work with patients prior to the beginning of the first block.  
Each week during the foundations phase, there will be one day devoted to clinical skills development. 
One day every other week, students will participate in clinical skills workshops; on alternate weeks students will work with a Primary Care physician in the community, applying what was learned in the clinical skills workshop to real patients, and getting to know the real world of the practicing physicians.
Over the course of the 2015-2016 year, WWAMI Wyoming will provide updates specific to our location. Please see links below from the UW School of Medicine which provides additional information about the new  WWAMI curriculum. 
---