Wyoming Natural Diversity Database
Vegetation Ecology Program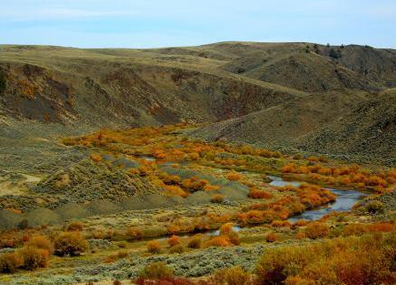 Our vegetation ecology program provides information about the vegetation types of Wyoming, emphasizing their composition and structure, geographic distribution, physical environments, and dynamics. We focus on the vegetation/environment types from the International Terrestrial Ecological Systems Classification, which have been described for the entire United States and are used in programs nation-wide (such as the U.S. Geological Survey's Gap Analysis Program) and in Wyoming (for example, the Wyoming Game and Fish Department's State Wildlife Action Plan). We gather information about each ecological system in Wyoming from published literature and unpublished reports and augment it with data and information collected in field projects throughout the state.
At present our web site has a list of the ecological systems found in Wyoming with links to sources with range-wide descriptions. We soon will begin adding an abstract, specific to Wyoming, for each system. Each abstract will will provide an introduction to the literature about the system, a description of the system as it occurs in Wyoming, and a guide for identifying the system in the field. We also will develop a cross-walk table that relates each of the ecological systems to units from other vegetation and land-cover classification schemes used in the state, such as the 1996 Wyoming Gap Analysis Project's landcover layer, the National Land Cover Dataset, and the Natural Resources Conservation Service's ecological sites.
An additional project of our vegetation ecology program is building a database of vegetation samples that will help biologists and managers to find data and information that has been collected at specific locations throughout the state over many years. And finally, we are putting together a directory to maps that represent Wyoming's vegetation and landcover-types in different ways.
Contact George Jones, WYNDD's vegetation ecologist, for more information about vegetation communities in Wyoming.