Frequently Asked Questions
Q. If a Dean travels and they bring back their receipts from their travel and give to their assistant, will the assistant need to upload all of the images of the receipts? Should the Accountant upload the receipts?
A: The Dean has the ability to assign either (or both) employees with delegate access. This access allows designated users to enter expense items on behalf of another user. The Dean still maintains the ability to add items to WyoCloud using a smartphone, tablet, or by going online. They could even snap photos of the receipts and upload them from the road, where they would sit in a "holding queue" for processing at a later time. If they choose, they could bring all documentation back to campus and pass them along to a delegate to handle that step.
The main budget items will be defaulted in the expense module, based on the employee's HR department (org/cost center), and the specific expense types are selected via a drop-down. The users will not need to know the account codes for each expense since they will simply choose from a list of items. For example, there is a selection for domestic airfare, lodging, etc., that will automatically select the appropriate natural account code. Once the employee or their delegates have all the individual items in WyoCloud, the delegated accountant would still be able to make changes to funding sources – items like fund class, program, and activity – and then submit the expense report on behalf of the Dean.
Q: If I understood correctly, personal meals while traveling will now only be reimbursed by per diem, but if someone is hosting a donor/speaker/interview candidate, I assume actual receipts will be accepted for reimbursement? Please clarify this.
A: This is correct, and in hosting situations, employees will still need to provide both an itemized receipt, as well as a list of attendees.
Q:  Can the Accountant modify the amount to be reimbursed if the Assistant creates the expense report first?
A: The individuals delegated with access to the expense module will be allowed to make adjustments to any items created prior to submission for approvals. If they notice a mistake, they can also remove the report from the approval process to make adjustments, and then resubmit. The AP Auditor will also have the ability to make necessary adjustments if there is a policy violation.
Q: If something is not allowable, will Accounts Payable notify the traveler, or if changes are made to an expense report prior to releasing payment, will a notification be sent?
A: AP Auditors will have the ability to make necessary adjustments if there is a policy violation. The employee and/or the accounting associate should be notified when these change are made.
Q: Will we keep the same expense account coding or will it change? Will people be able to see these only when they do an expense, or will there be a list provided to accountants before Go-Live?
A: There are significant changes to the expense accounts. The Chart of Accounts will be built into a list similar to what is currently provided to campus that will detail all the necessary information for departmental accountants before Go-Live.
Q:  Once a receipt has been uploaded into the system, is there a need to keep the physical receipt?
A: No, there is no need to keep the physical receipt once it has been uploaded into the system.
Q: Will it always say cash next to the expense items in the top left menu box?
A: Yes, it will always say "Cash" next to the expense items that you create as they are not P-Card transactions and they have not been added to an expense report. They will appear as a card charges as in the example below if the expense item was fed to your expense module from your p-card as shown in the example below.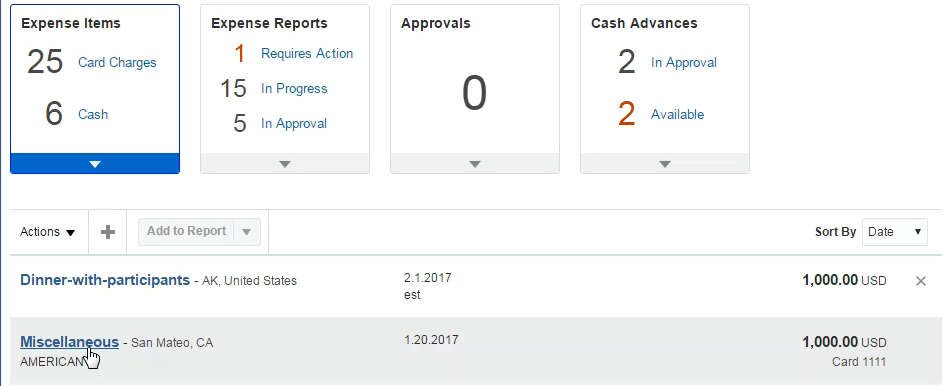 Q: How will p-card transactions be reconciled through expense reports?
A: P-card transactions are reconciled through the expense module, just like items paid on a personal credit card. The expense items are imported daily from the bank and appear as "Card Charges". Those items are added to expense reports, and processed along with personal reimbursements. The system will know these transactions are tied to the p-card, and will only reimburse the employee for personal "Cash" items.
Q: What are all of the templates in the expense report?
A: There is only one template in the expense module, and all expense items are included under the single template.
Q: If we buy dinner for 300 people, do we have to list out all of their names with the new meal template in the expense report? Can we add an attachment with the roster and write see attached?
A: If paying by p-card, or personal card, the list of attendees would be included in the description field of the expense report, or can be attached along with the receipts. The appropriate expense item to use if you are providing food for a large group of people would be hosting. If paying on a requisition, the list of attendees should be included with the invoice when submitting to Accounts Payable to enter and process the payment.
Q: If you submit an incorrect expense report charge, can the system take the money out of your account if you have direct deposit setup?
A: No, the system cannot take money out of your bank account. If this incorrect expense is not caught by the department accountant, business manager, expense auditor or any of the other approvers before it is created as an invoice and paid by AP, then you probably have more money in your bank account than you should.
Q: Can the Department Chair see a report of all expenses in their area? Can the VP? What access will these users have?
A: The Financial Reporting and Security teams are still working on this question and will be able to provide an answer soon.
Q: How do you split an expense item between multiple grants?
A: In the expense module, there is an expense item  called "split funding". Once a user selects this item and enters the dollar amount in the field, they can click the box marked "itemize". Within that itemization, they can click the plus sign to add additional lines, and each line can use its own funding source.
Q: What if an expense should be charged to a grant but I forgot, how do I reconcile this error after it has been paid?
A: WyoCloud transfers expense items into the Accounts Payable module for the payment process. Users can locate the expense item through the Invoice section of WyoCloud, then select the edit option within the action menu. On the line, there is a button marked "Distributions" where they will select which line needs to be changed, and click the "reverse" button. The system will automatically reverse that line, and the user can click the plus (create) icon and input the correct accounts. The system will not route this change for through the approval workflow. Accounts Payable will just re-validate this invoice and post the invoice to the ledger.
Q:  With travel, since it is an after the fact reimbursement, if the person submitting the travel is submitting expense when will the notification go if you are overspending or the line item for travel is not an item?
A: It will not allow them to charge it. The Expense module will NOT give budget checks up front but when it flows to accounts payable it will be checked.
Q:  Can we delegate if someone is on vacation?
A: Yes - can delegate for the time period you set if you are gone.
Q:  What is allowed with missing receipt?
A: In the system when you submit expense report, gives warnings if you use a receipt and gives you a place to provide an explanation.
Q:  For hotel and lodging, there are extra charges if they put food on the hotel or Wi-Fi, do we have to break this down with account codes?
A: Use the same receipt but select "Split Funding" as the expense category. This allows you to select the appropriate categories on the same receipt and expense item. With WyoCloud, we want to know what we are spending money, to better manage spend.  
Q:  Is there an option to upload a conference agenda to review what meals are provided?
A: Yes, attach the conference agenda like a receipt.
Q: Is there still the 60 day policy for reimbursement?
A: Yes the policy is not changing, but the process to submit is easier and quicker.
Q: Are we cutting checks more often?
A: Accounts Payable process check cycles on a daily basis now, and will continue that process in WyoCloud.
Q: What if I am inputting info for several people in my department, is there capability that I can do this still?
A: Employees can give delegation approval to multiple employees within the expense module. These delegations are not time specific and remain in place until the employee removes the access.
Q: What if you don't have a smart phone for the Expense app?
A: There is no requirement to use the mobile application for expenses. It is simply a tool available if the employee chooses to use it. All receipts can be saved and scanned once the employee is back in the office.
Q: As soon as I scan my receipts, goes to cloud, if I lose my phone do the receipts remain saved?
A: Yes, once the receipt is uploaded, it is saved within the WyoCloud system.
Q:  Even if I'm taking a photo of my receipt and attaching it, do I need to keep actual for auditing purposes?
A: Saving the receipt is not necessary as long as the image is clear and the auditor is able to read it. Make sure to review the picture once you take it, and if it is clean and readable, there's no need to save the paper copy.
Q:  If I already have direct deposit for setup for my paychecks, is the information for my bank going to be in WyoCloud to have my reimbursement direct deposited?
A: Bank accounts for expense reimbursement are not tied to the employee's payroll account, and it is necessary to enter the account within the expense module.
Q:  For people who don't speak accountant and know the chart of accounts, is there a translation of account numbers in the system?
A: The system has default values for the account string based on your unit at the University. There are also descriptions of the account strings if you click to change the default. You can also make your department accountant a delegate to review your chart sting information after you have completely filled out the expense report. The department accountant can then review the string and submit the report for you after they verify. 
Q:  Since there are now mobile approvals, if the approver can check multiple times a day when not at work, will they be compensated for that time wise?
A: If you are not in the office and on paid time off, it may be better to delegate your approvals. Mobile approvals are available as an option, but if you are not working, you are not expected to be approving transactions.
Q:  With the Expense app capabilities, will there be more mobile communication device reimbursement?
A: Since the app is for convenience and not the only way to upload receipts, this will be a conversation for departments to have and set policies around.
Q: Is the University or Oracle liable if something were to happen to our bank information?
A: The bank information you enter for direct deposit is encrypted just like it is today stored in HRMS. Oracle was chosen in part for their security and they have a robust defense in place to keep your information safe.
Q: What will the "payment request" process look like?
A: The list of items allowed on a payment request (AP Invoice/Non-PO Invoice) will be much more limited than what the current processes allow since almost all purchasing will be completed through the requisition process. Employees that handle the paperwork in the PeopleSoft system will use similar information they put on the current form, but will have access to enter it directly into the AP Module of the WyoCloud system. Once submitted, this will route for electronic approvals, and ultimately will be paid through AP.
Q: What will the P-Card process look like for reconciling?
A: Once the P-card process has been finalized and working properly, we will provide a demonstration of it. The reconciling of P-cards in WyoCloud is done in the expense module, by the cardholder or their assigned delegates. It is handled through the same process as a personal reimbursement, where the user selects the expense type using drop down menus. Card transactions are added to an expense report and submitted through the approval process. The system will be able to recognize card transactions and will ensure that the right payment goes to the bank, or the cardholder, even if they are submitted on the same expense report.
Q: Will we still need to hand in a log and actual receipts? 
A: These will be reconciled through the expense module and receipts uploaded to the expense. Based on how WyoCloud handles card transactions, there is no log.
Q: Will the receipts need to be uploaded?
A: Yes, they can be uploaded to an expense and receipts will be required, just as they currently are.
Q: Will we have more space for details/description while reconciling?
A: The expense module provides description space limited to 240 characters including spaces. That equals almost two and a half lines of 12-point font when typed, and the user has this option for each individual expense item.
Q: How are p-cards being handled?  Should we be limiting cards to certain individuals who travel?  What will be the process for reconciling? 
A: Cards do not need to be limited to only individuals who travel.  Cards can still be used for day-to-day purchases but in the future could be limited from use for those items that UW will have negotiated substantial savings discounts. These items will be purchased through catalog/punch-out within the Requisition process. 
Cardholders can reconcile their own P-card transactions or can delegate this responsibility to another person, i.e. accountant.
Q: Will invoices in certain expense codes (items currently in the 900000 group) still require a PO if over a certain amount ($1,500 or $2,500) and if the invoice has already been received?
A: Individuals will no longer create purchase orders in the WyoCloud system.  Requests for goods or services will be initiated through a requisition process within the Purchasing module.  A series of approvals will take place, and ultimately a purchase order will be created from the requisition.
All university expenditures, except for those identified as allowed under the Payment Request, require a requisition prior to goods being ordered or services being performed. The list of items currently to be paid using a payment request will be limited.  Services at all dollar levels will no longer be paid using a payment request but will be paid through a requisition.
Q: Will there be changes to the bidding process?
A: No, the bidding process will remain the same.  The University Bid Threshold Policy can be found within the General Counsel website under Current University Policies.
Q: What will be the process be for adding suppliers to the system?
A: There will be two ways to add suppliers to the WyoCloud system.  First, as currently handled, there are two individuals, one from Accounts Payable and one from Procurement Services, who will create suppliers within the system as requested from supplier forms.  The current form may be slightly modified, but departments will be notified of the new form when changes have been made. 
Secondly, suppliers will be able to self-register via a supplier portal within WyoCloud.  Procurement Services will evaluate supplier requests and once approved will send a web link to the requesting supplier to self-register. Once the supplier has registered, one of the two individuals from AP or Procurement will review for required information and finalize (approve) the supplier in the system.  Not all suppliers who register will automatically be approved.  As occurs in current processes, we receive more supplier applications than are suppliers created in the system.  We will only create new suppliers when there are actual payments or orders being placed with the supplier. If departments want a supplier to be sent the link to self-register, they should contact Procurement Services to do so and not send the link to the suppliers. The request will be evaluated and processed.
Note: The web-link will not be published as we don't want departments to send these to suppliers. There are a couple of reasons for this: 1) Suppliers think that filling out a supplier form or now registering will mean they are on a supplier bid list (they have to contact the Procurement Buyer to be one the list) and this can lead to too many supplier registrations that will go nowhere, and 2) if Procurement sends them, we are reasonably sure there is a need to approve a supplier, which leads to faster, full registration of a supplier into the system.
Q:  Will we have faster access to grants in the new system?
A: Grant setup will happen on a daily basis.
Q:  Will InfoEd still be in place?
A: Yes, InfoEd will remain the official system of record. WyoCloud will take the place of Financial Tracking (InfoEd module) and PISTOL.
Q:  What will happen to green sheets in the new system?
A: Green sheets will be used the same way they are today in the new system.
Q:  Are there ways to make notes in the system?
A: Yes. Through the approval process, notes will become part of the permanent, official record.
Q:  Will Grants be subject to the new UW per diem meal travel policy?
A: There will not be expense types for dinner, lunch, and breakfast – these will be covered by per diem. However, in the event where a grant requires actual receipts, per diem would not be used.
Q:  How do you split an expense item between multiple grants?
A: To split an expense item between multiple grants, you would be able to itemize the total amount across multiple grants. To allocate an expense between multiple grants, you must be able to show the benefit to each grant. For more information on allowability and allocation of grant expenditures, contact the Office of Sponsored Programs.
Further explanation of how to split an expense item can be found in the Expense FAQ on this page.
Q:  Will there have to be a grant budget for the grant to be setup in WyoCloud?
A: Yes, budgets are required. For additional information on budget requirements, contact the Office of Sponsored Programs.
Q:  What are you going to do with grants that do not come in with line item budgeting? Go back to PI to ask how they came up with the number?
A: We will review the award contract and then contact the PI and their department accountant to determine the appropriate budget. In special circumstances, we can budget at a total grant level. However, this does not provide any budgetary control. For additional questions on budgeting….
Q:  Is this budgeting just for new grants? Or how are we going to get line items on old grants?
A: As part of the conversion to WyoCloud, the Office of Sponsored Programs is reviewing all active grants and determining those that will need line item budgets. The Office of Sponsored Programs will be contacting the PIs and department accountants if additional budget information is needed.
Q: A lot of grants are in the middle or in the final quarter of their budget year – do we need to submit full budget for the entire grant period or just the remaining budget?
A: We need the entire grant budget amount for the year. If you have questions or concerns, please contact Jonnie for guidance on the easiest way to go about this.
Q: If we have funds that roll-over (5 year grant) do we need to determine ahead of time where they are placed and what line item? Can we choose? Do they have to follow where they came from?
A: We will need to look into each individual program. We will need to look at each carry forward request to help determine how the funds will be used. 
Q: With payroll, does the budget check come in after person is paid or is it going to stop them from getting paid?
A: Per University of Wyoming policy, the payment of payroll will not be held up due to internal processes. We are working diligently to configure the system to minimize these occurrences - nothing should hold up payroll or affect grants.
Q: How do we make these budget changes?
A: Contact the coordinator associated with the grant, if needed they will contact the sponsor for further assistance.
Q: Can you clarify what "equipment and rental fees" refers to? Does this relate to office space rental?
A: Everything that would be considered "rent" would roll up into this category. Once we provide the roll up to you, you will be able to see more specific details.
Q: Can you clarify what "publication costs" are?
A: Cost of publication due to research and producing a formal document. This does NOT include making copies, etc – that would fall under office expenses.
Q: Is the Grants Office going to look at each department's individual expenditures to roll up under categories?
A: If we already have your budget, we will do what we can to translate it over. This does not mean that we will make changes without consulting the PI and the department accountant.
Q: Will we still have Pistol reports and what will that look like in relation to grants?
A: The reporting team is working through the configuration of reports and this information will be released in the near future.
Q: With the new budget line items, what is "indirect" now called or referred to as?
A: F & A – Facilities and Administrative Costs.
Q: Is there a way to see what is being accrued?
A: There will be no change with the payroll accrual process.
Q: Will fringe for supplemental/summer salary is currently split – will this be changed?
A: Summary salary fringe will no longer be pro-rated. It will be charged against the flat fringe rate.
Q: I have two faculty members that belong to another department – will I be able to complete PO's, expense reports, etc using their grant information or will I need access to their accounts to enter against them?
A: As long as you have the POET string you can process against them.
Q:  If there is more than one PI on the Grant, who approves it?
A: The main PI (not co-PI's) will be able to approve.
Q:  If I issue a PO on a grant, will it go to somebody else instead of a PI?
A: All expenditures, regardless of the method of payment, will be routed for approval to the PI.
Q:  What would happen to a grant if a PI leaves?
A: If a PI leaves, it is up to the sponsor to determine if the funds will transfer with the PI or if the funds remain with the institution.
Q:  Does the PI see all the way through awards, contracts, and projects?
A: PI's have access to awards and projects (not contracts).
Q:  When we have grants that cross over different departments, what kind of access will we have?
A: To have access to a grant in PPM, you must be listed as a Team Member in PPM. The determination of who is a Team Member is taken from the green sheet which is completed by the PI. We will be converting the current team members from InfoEd. If you are not currently listed as a Team Member and need to have access, please contact the Office of Sponsored Programs.
Q:  How will indirect costs be handled for grants?
A: Indirect cost will be assessed against the grant expenditure in real time as opposed to the current monthly process. Indirect cost will be distributed the same as it is done currently.
Q:  Will it be easier to track where exact indirect costs come from for the purpose of telling people how much is available to them specifically?
A: Indirect cost will be distributed the same as it is done currently.
Q:  How will indirect costs be split across departments?
A: The standard distribution of indirect cost is as follows:
75% general fund
15% department
5% college
5% VP of Research
Q:  Will a distribution sheet for 2016 be coming soon?
A: Yes, it will be posted soon.
Q:  Will indirect costs be encumbered?
A: No, indirect costs will not be encumbered in the new system. Indirect costs are included in the budget line items and will be managed through budgetary controls.
Q:  If we share F&A with other institutions, for instance, will it be reflected on its own line item (and only for UW)?
A: When indirect cost is charged through other institutions, it is part of their subaward contract agreement and is appropriately included in the subaward line item. The only amount reflected as F&A in the budget is UW's portion.
Q:  How will subcontracts be handled in the new system?
A: Pre-Award Office of Research will assist in the creation of the subaward contract. Once the subaward contract has been finalized, it will be processed through procurement. All processing of subaward payments will be applied through the Accounts Payable system. For additional information, contact the Office of Sponsored Programs.
Q:  Will we still need to do PARS forms with the new system?
A: Yes, HRMS will still be used and paper PARS forms will be generated until the new HCM system is implemented.
Q:  What if your cost share is on multiple projects not just one, how can you tell?
A: At grant setup, per the grant agreement and green sheet, we determine if cost share is a grant requirement. If required, then a cost share project will be created that is associated with the externally funded project (grant). Similar to tracking your budget to actual expenses on your grant you will be able to track the expenses on your cost share project.
Q:  Will we need to know where cost share is coming from right when the grant is set up?
A: On the green sheet, cost share is identified by its source. Upon setup of the grant, the Office of Sponsored Programs will contact the department and PI to make arrangements for the transfer of the funds. If the award is a multi-year award, the funds can be transferred annually.
Q:  Should we be over-matching cost shares?
A: We do not recommend over-matching.
Q: How can I track progress cost-sharing requirements?
A: On the green sheet, cost share is identified by its source. Upon setup of the grant, the Office of Sponsored Programs will contact the department and PI to make arrangements for the transfer of the funds. If the award is a multi-year award, the funds can be transferred annually. In the awards module, you can track budget vs. actuals on all projects included cost share.
Q: What happens if I have one grant account that is used as cost-share against another grant account?
A: We would not utilize the functionality of that cost-share account. We will know through communication with you that the expenses that are charged to the other award is cost-share towards the grant. It's really about communication.
Q: What happens if I have multiple source funds (ex. Unrestricted for part, endowment for other) – is this ok and how would this division work?
A: Your cost-share is one pool of money that is being used to meet the grant requirements. They will not have separate identities once they are in that one account.
Q:  Will we be able to track travel spread out among multiple faculty members?
A: No.
Q:  Will be able to change the end date that you put in for a grant?
A: The end date of the grant is determined by the grant award agreement (contract). It is only through a modification (no-cost extension) or an amendment that the end date of a grant is modified.
Q: What about grants that don't line up with the fiscal year? Will funds expire over the fiscal year or will they roll over?
A: The term of the grant is determined by the grant award agreement. There is no impact on management of the grant by our fiscal year. There is no expiration of funds until the end of the grant term.
Q: Can you send out the task information so we can start filling July/Aug out hire papers for grants?
A: For all grants, the task is always number one.
Q: How will in-kind contributions look in the system?
A: If you have in-kind contributions being provided, we still need documentation from service agency stating value of service and service provided. We are currently testing the appropriate mechanism to capture the information in PPM.
Q: If we have a grant award, what is the flexibility within each line item?
A: Budget flexibility is dependent on the sponsor and the grant award agreement. The rule of thumb for federal funds is 10% of the total grant. For example, if a grant award is $10,000, the flexibility of transferring within budget line items is $1,000.
Q: It is our understanding that line items in PPM are different and do not match up to our current line items (ex. Grants currently break up personnel costs into full-time, part-time, fringe. New system will lump all of these into "labor" moving forward). How are items are defined to be put into line items?
A: There is a crosswalk that will show each natural account and how this corresponds to expenditure types and how this rolls into budget categories. We are not quite ready to roll out this document as chart of accounts is currently under revision, however when we are ready this information will be provided. Please note, you 
will not
be expected to do this on your own. The Office of Sponsored Programs will provide assistance as needed through this transition.
Q: If we have submitted expenditure corrections, but haven't received a denial and do not see it in Pistol reports, should we just assume it is pending?
A: Typically, no. If we review them and we need additional information, those will always be sent back to you. We do not track the dates that we sent corrections back. Payroll processes expenditure corrections on a weekly basis.