Financial Management System
FY18 Year End Close Information
The WyoCloud Financial Team has prepared documentation to guide campus as we approach year end on June 30, 2018.  Please know the information and deadlines presented in this documentation may change as we continue to work through closing out the year end for the first time in WyoCloud Financial Management.  When a change occurs, you will be notified via an email from WyoCloud. 
The below memo and corresponding calendars outline significant deadlines for campus with additional details.  It is recommended your review the calendar and memos in detail. 
Training
If you have not yet taken the three trainings required for basic system access, please visit the Training tab for further details
Procurement Catalogs
With Procurement Catalogs, users will now be able to shop for select office supplies,  computers, and much more via catalogs from major suppliers (such as Office Depot and CDW-G) as well as smaller local suppliers (such as Office Scapes, Source Office, and CCS Presentations). Procurement Catalogs will allow users to compare items across suppliers. Next day shipping is also available when ordering from Office Depot! WyoCloudProcurement Catalogs save you time searching the web for the product with the best price since UW has negotiated contracts with suppliers for competitive pricing.  With future WyoCloud Financial Management releases, additional suppliers will be added to the WyoCloud Procurement Catalogs.

Contracts Module
While functionality will remain the same, the layout of this module will be getting an upgrade, allowing for enhanced and more intuitive user navigation. An updated Quick Reference Guide will be made available on Mon, Sep 18th.

Customizable Desktop Icons
Users will now be able to customize which tiles they can see on their desktop upon logging in – note, this customization will not affect what is available within navigator.
On this page, you will find high-level information on the Financial Management system. Please refer to the Training page and the WyoCloud Quick Reference Guides for instructional information on how to complete transactions in WyoCloud Financial Management.
WHAT IS WYOCLOUD?
The WyoCloud Financial Management System will centralize and replace outdated systems across UW, including those handling financial management, budgeting, and external grants. The system will allow for integrated data reporting across all university systems to enable UW to make informed strategic decisions about our financial resources.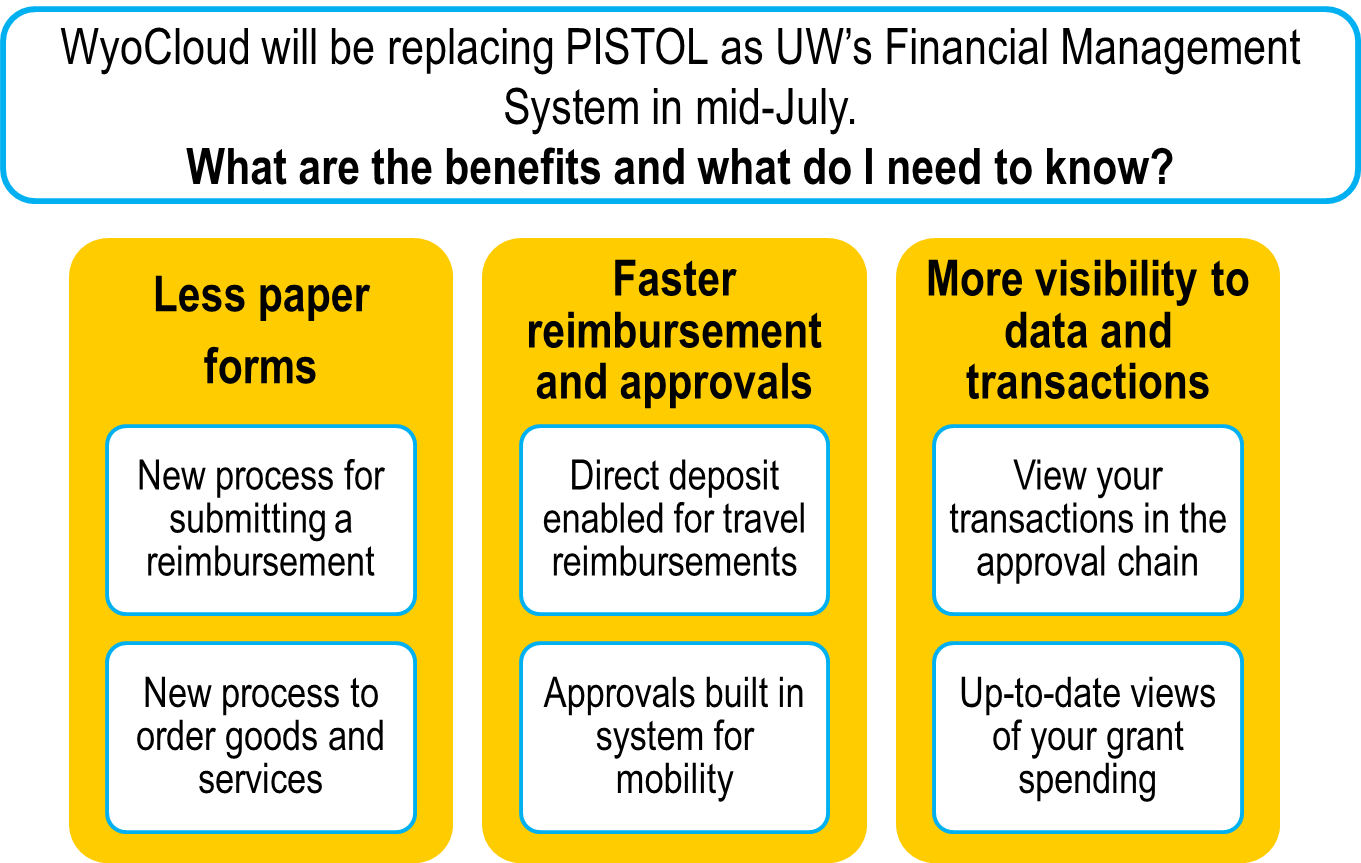 FUTURE STATE WITH WYOCLOUD
WyoCloud will change the way the University does business at every level and will affect every user on campus. On this page, we will be continually posting changes that will be coming with the Finance system. If you would like more information on a specific change, please email wyocloud@uwyo.edu and the UW module lead will provide more information.
For detailed information regarding the following modules, please click on the links provided, and you will be taken to the appropriate Quick Reference Guide in the WyoCloud Knowledge Base:
If you have completed your required training, you can access the system and its current features by navigating to the WyoWeb home page.  Under Faculty & Staff Resources, select the WyoCloud Financial Management link. If you have any issues with your access to WyoCloud or to WyoCloud trainings, If you have any problems or questions accessing your trainings, please contact the UW Help Desk by emailing userhelp@uwyo.edu or by calling 766-4357 and selecting Option #1.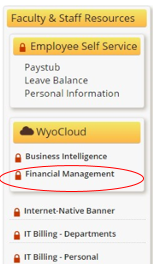 All UW Assets and their attributes will be tracked in WyoCloud instead of PISTOL and other shadow systems. The traditional way of managing assets-manual processing and disjointed systems—is slow, expensive, and error prone. With WyoCloud, you can manage your assets in a single system that automates many standard transactions to reduce these costs and improve the accuracy of fixed-asset transactions.
When an asset is purchased through the Procurement or PPM modules, the asset will feed over into the Fixed Asset module to be tracked when they are acquired and ready to use. You no longer have to manually enter the asset into a system to be tracked due to the automated business processes in WyoCloud.