Zoology and Physiology
College of Arts and Sciences
News from the Department of Zoology and Physiology
August 15, 2014 - Dr. Sarah Benson-Amram, assistant professor of Zoology, was featured in a segment of a recent British Broadcasting Corporation (BBC) documentary called "Talk to the Animals" [read more]
January 13, 2014 - Dr. Anna Chalfoun, assistant unit leader for wildlife with the Wyoming Cooperative Fish and Wildlife Research Unit  and an assistant professor in the Department of Zoology and Physiology has been selected for a Presidential Early Career Award for Scientists and Engineers [read more].
January 12, 2014 - Diem Thu Pham, a graduate student in the Department of Zoology and Physiology Dr. Harold Bergman's lab works to improve public health in Vietnam and to showcase the work of other UW students conducting international research [read more].
October 31, 2013 - Congratulations to Matthew Hethcoat and Anička Kratina-Hathaway on being the best student oral presentation and best poster recipients, respectively, at the state TWS (Wildlife Society) meeting in Rock Springs.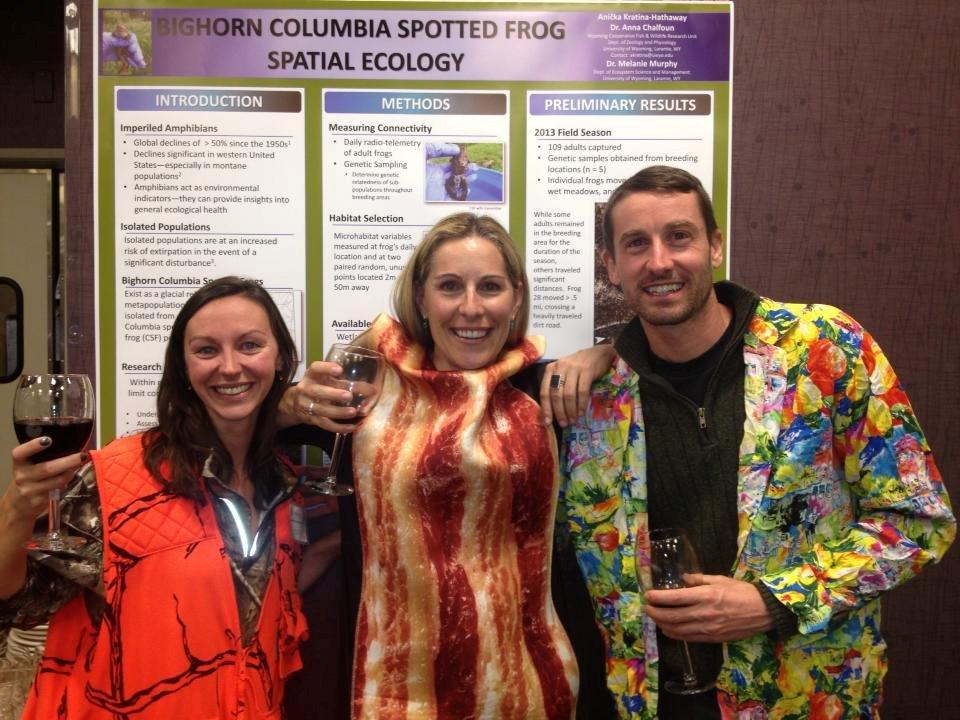 October 3, 2013 - Reilly Dibner, a doctoral candidate in the Zoology and Physiology, studies factors that could affect Wyoming's horned lizard population [read more]
 September 24, 2013 - Death match: Eagle takes down deer. Linda Kerly, who earned her Ph.D. in 1995 from the Department of Zoology and Physiology, studies Russia's endangered tigers and reports this surprise finding [read more]
August, 2013 - Matt Hethcoat (student of Dr. Anna Chalfoun) won a Best Student Presentation Award at the joint meeting of the American Ornithologists' Union and Cooper Ornithological Society. The title of his presentation was:
Nest predation and energy development: What's coming down the pipe for sagebrush-obligate songbirds?
June, 2013 - Dr. Wayne Hubert receives Gerald E. Cross Alumni Leadership Award [read more]
June 2013  - A study on Wyoming's largest moose herd could guide management decisions about oil and gas leasing in the Wyoming Range [read more].
April 2012 -  Dr. Donal Skinner, Associate Professor in Zoology & Physiology, was selected as this year's 2012 Outstanding Faculty Award recipient by the Wyoming Student Alumni Association (WyoSAA) committee members, Kelly Baxter of Cheyenne, who has been a student of Dr. Skinner as well as an undergraduate researcher.
April 2012 -   Dr. Hank Harlow, professor in Zoology and Physiology, received UW's George Duke Humphrey Distinguished Faculty Award. Named for UW's 13th president who served from 1945-1964, the award recognizes teaching effectiveness, distinction in scholarly work, and distinguished service to the university and state. It is UW's highest faculty honor [read more].
April 2012 - Chelsea Hoekstra and Eli Kinney-Lang, Undergraduate majoring in Neuroscience-Physiology, won First Place for their poster presentation at Annual Western Region Honors Council (WRHC) Conference:  Trophic/ Growth promoting effect of Neurokinin 3 receptor agonists on neurites of rat embryonic hypothalamic neurons. Their advisor is Dr. Bill Flynn, professor in the department of Zoology and Physiology
April 2012-  Phil Gaskill was awarded best poster at the Western Division meeting of the American Fisheries Society last week in Jackson Hole.  The title of the poster is "Brown trout (Salmo trutta) spawning patterns in an urban stream" his coauthors are Eriek S. Hansen and Steve Gale (Wyoming Game and Fish Department).  Phil is an undergraduate in the department majoring in Wildlife and Fisheries Biology.
April 2012 -   Shelby Oelklaus, an undergraduate student  majoring in Physiology, received the Chinese Ambassador Scholarship, which allows her to study in a Chinese university for one year. The scholarship pays all her tuition and living expenses while she studies in China. Shelby is from Alaska and she plans to study at Sichuan University, China
April 2012 - Dr. Elizabeth Flaherty, assistant lecturer in the Department of Zoology and Physiology, was named the 2011-2012 recipients of the James C. Hurst Each Student-A Person Award [read more]
April 2012 - Dr. Jeff Woodbury, professor of the Department of Zoology and Physiology, Colleen Cassidy, graduate student in UW Neuroscience Program, and their colleagues have discovered a new technique to determine how the touch sensory system is organized in hairy skin, providing a new understanding of the sense of touch. Their findings were selected to appear as the feature and cover article in Cell, one of the pre-eminent international journals in the biological sciences. [read more]
July 2011 - Post-doctoral researcher Seth Newsome is involved in a study of sea otters as an indicator of coastal ecosystem health from California to Alaska. The study was covered in an article in The Washington Post [Read More]. For more information, read about the Pacific Nearshore Project, funded by the US Geological Survey.
June 2011 - The Stable Isotope Facility at UW has moved into the new Berry Center for Biodiversity. An article about the facility is featured in the current issue of UWYO Magazine.
May 2011 - PhD student Ali Hussein appeared in The Standard (Kenya) for his work studying the hirola, an ungulate on the brink of extinction found in Kenya and Somalia.
May 2011 - Sarah Gregory, Spring 2011 graduate of the University of Wyoming, is featured in an article about the Honors Program at UW. Sarah was a major in Physiology and Molecular Biology. [Full Story]
April 2011 - Seth Mathern, student of the Department of Zoology and Physiology, is the 2011 winner of the Tobin Memorial Award as the University of Wyoming's outstanding graduating man [Full Story].
April 2011 - Dr. Carlos Martinez del Rio has been selected by Honors Program students for the Teaching Excellence in Non-honors Courses award, receiving the most individual nominations from students for 2011.  Congratulations, Carlos!
April 2011 - Dr. Margaret Flanigan was one of three recipients of this year's John P. Ellbogen Meritorious Classroom Teaching Award, established in 1977 by businessman John P. "Jack" Ellbogen, to "foster, encourage, and reward excellence in classroom teaching at UW." [Full Story]