Graduate Degrees Electrical Engineering and Computer Science with student
Earn your Undergraduate Degree in Electrical Engineering, Computer Engineering and Computer Science (EECS)
---
THE EECS DEPARTMENT AT UW OFFERS ELECTRICAL ENGINEERING, COMPUTER ENGINEERING AND COMPUTER SCIENCE WITH A BIOENGINEERING OPTION OF ELECTRICAL ENGINEERING.
There is frequent opportunity for undergraduates to participate in research projects. EECS faculty members maintain a flexible open-door policy, making them extremely accessible to students. The qualifications of the EECS faculty members are excellent, with many in leadership positions in national and international organizations, several are textbook authors and all are active in their respective specialties. The department has well-equipped laboratories, offers free access to computer systems running software needed for studies, maintains small class sizes and provides a friendly, supportive environment for students.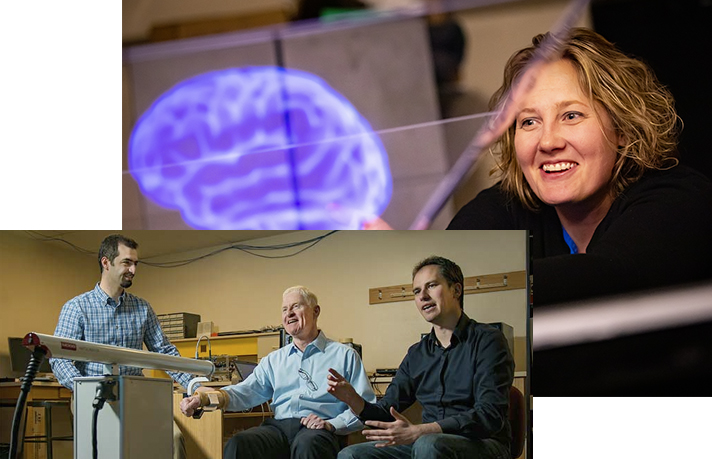 ---
What are degrees in EECS?
Electrical Engineering
The electrical engineering degree program provides the depth of understanding necessary to meet the challenges of ever-changing technology while being flexible enough to allow students to pursue in-depth study in at least one specialization area of electrical engineering. Students gain an understanding of mathematics and the basic engineering sciences, along with a fundamental education in electrical circuits, computer networks, electromagnetics, electronics, digital systems, communications, control systems, and energy generation/conversion.
---
Computer Engineering
The computer engineering program has many similarities to the electrical engineering program described above, but allows students to put more emphasis on computer-related technology. The computer engineering degree program is designed for those students who want a special emphasis in both the hardware and software associated with incorporating digital devices and microprocessors into various products and systems.
---
Computer Science
A Bachelor of Science degree (B.S.) in Computer Science prepares students for careers in virtually any industry or to continue on with graduate study in Computer Science and many other fields. Computer science students learn to approach problems from a computational (algorithmic) point of view, this approach to problem solving often leads to better and more general solutions.
---
Research Opportunities
With any of our degrees, take part in cutting-edge research with our faculty members. You'll gain valuable experience and contribute to the future of the industry.