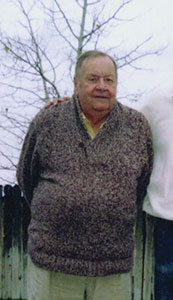 Bill Campbell's unrestricted gift to UW Athletics is a gift of faith. Why? Because a gift that is unrestricted can be used strategically in the areas where it is most needed; and it shows how much Bill believed in Wyoming's university, particularly its football team.
"Bill was a very generous man," says Dick Campbell, who is just nine months younger than Bill and is Bill's cousin and lifelong friend. Bill and Dick grew up together, and Dick and his wife Jean traveled to Laramie to join Bill at football games. "Anybody who came to his door, he would donate to: Girl Scouts and Boy Scouts. And when he died, he gave everything he had to the Athletic Department—including the salt and pepper shakers."
This gift is a testament to Bill's lifelong passion for Cowboy football. Bill loved the Pokes. A season ticket holder, he never missed a game—whether it was at home or on the road. He always traveled with the team. He looked forward to receiving the Cowboy Media Guide. Every July he would call John Stark, Senior Vice President for Development at the the UW Foundation, and say, "Have you seen it yet? Has it come?" When he retired from Amoco, where his work took him across the globe, he moved to Laramie to be closer to the games. He even attended practices.
For a game, Bill always bought six tickets—three for Dick, Jean, and himself, and three more in case someone needed them. If not, they had plenty of space. Dick and Jean would travel down and stay with him in his home in Laramie. Bill didn't like to eat out, but he loved to cook and had a large cookbook collection—so he would cook one night and Jean would cook the next night. "I didn't mind," jokes Dick.
Donald W. "Bill" Campbell was born in 1926 in Midwest, Wyoming, and graduated from Midwest High School in 1944. While in high school, he played football and basketball; and after graduation he entered the U.S. Air Force and served during World War II on a B-17 crew.
After his service to his country, he worked for Amoco Oil Company as a drilling supervisor on fields up and down the Rocky Mountains of North America, Alaska, South America, and Libya. When he retired, he moved back to Midwest and then to Laramie. He was an avid fisherman and hunter and a Mason and a Shriner. He loved his black lab Jezzabell.
In 2008 Bill established the Bill Campbell UW Football Excellence Fund, which was doubled by the state. He established the fund to enable the football program to continue to expand quality opportunities for student-athletes. Bill also contributed to many other Athletics programs and included UW Athletics in his estate plan as 100% beneficiary of his entire estate.
"Laramie was his home because he wanted to be close to the Cowboys," says Jean. Dick adds, "Bill followed the Cowboys to his last day." And beyond—Bill passed away in 2010, and his tombstone reads, "A True Cowboy Fan." From it, you can see his beloved stadium.