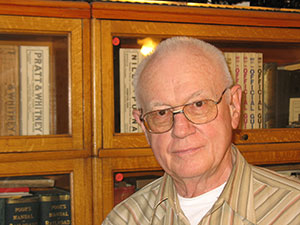 Railroad expert Jim Ehernberger passes on a lifetime collection of railroad history to future generations.

Imagine it's the 1930s. A small boy is visiting the train yards in Omaha, Nebraska. Wide-eyed, he sees his first gleaming, chuffing locomotive and is captivated. It's not hard to imagine that boy falling in love with this beautiful technology for life.

That's what happened to Jim Ehernberger of Cheyenne. For sixty-five years, he's been a respected and well-known photographer and expert on trains and the railroad. That little boy's love of trains blossomed into a lifelong passion.

It was then that Jim started his collection. He began hanging out at the depot and started collecting train schedules. His family moved to Cheyenne, and he got his first job at age 16 for the Union Pacific Railroad. He then stayed on for thirty-four years as a dispatcher. "I loved what I did," Jim says.

Jim has published 15 volumes of railroad history—including Sherman Hill, Union Pacific, Smoke Over the Divide: Union Pacific, Wyoming Division, and Union Pacific Depot: An Elegant Legacy to Cheyenne—and has contributed to railroad magazines. He has appeared in documentaries for PBS, BBC, and German PBS. Starting when he was 17, he has been a world-renouned photographer of trains and has produced 38 pictoral books for the Union Pacific Historical Society.

He collects railroad records and related historical material, negatives, photographs, maps, schedules, and materials documenting railroad history in the West, with a special interest in the steam engine. He was active in the Wyoming Historical Society, the Union Pacific Historical Society, and other railroad enthusiast clubs He has amassed one of the largest collections of Union Pacific and transportation-related material—a collection that he wants to share with others. Jim has been working since the mid-1990s with the American Heritage Center to organize and donate his collection.

To fund the archiving of his wonderful collection at the AHC, Jim set up a retained life estate. Under this agreement, Jim's house is donated to the University of Wyoming, yet he is able to live in it for the remainder of his life, and he realizes a sizable income tax deduction. At the end of the life estate term, the title of the house will be transferred to UW, which is then able to sell it and use those funds to support the area Jim cares about—his wonderful railroad papers and photographs at the AHC. This endowment supports not only this collection but also other future transportation-related collections.

"Having money available is important," Jim says. "If you want a collection preserved and made available through cataloging and other means, it is important that money is considered."

In addition, because of the state matching program, Jim was able to double his donation with state dollars, and because he was able to take advantage of state matching, the AHC is able to use the expendible on the state-match portion of the funds now.

And that's not all. He's given in other ways, and he went above and beyond by including UW in his estate as a beneficiary of a qualified retirement plan. Because of the upfront tax-advantaged nature of a retirement plan, money received in a distribution or that goes to heirs is subject to income tax. However, money given to a charity is not taxed. The same is true for charities named as death beneficiaries—there is no tax associated with the assets.

You can tell that Jim was and is really good at his job—all you have to do is take one look at his basement. He is in the process of organizing the tens of thousands of photographs and negatives he has taken and all the historical material he has collected. That is what is slowly being transferred to the AHC.

Neatly labeled filing cabinets line the walls and are filled with carefully aligned file folders. Negatives in professional-grade sleeves are labeled and associated with prints, which are also in protective envelopes. Some cabinets are organized alphabetically and some by subject, depending on the best way to access them.

Jim is making all this amazing material available for everyone, and that ends up being what he is passionate about—passing it on to others.