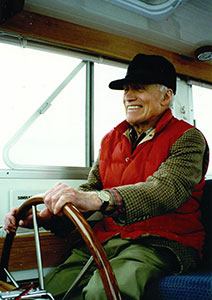 Cliff Hansen casts a long shadow. He was governor of Wyoming from 1963 to 1967 and then represented Wyoming to the U.S. Senate from 1967 to 1978. During his political career, he fought hard for Wyoming and looked after its interests. He also served as president of the University of Wyoming Board of Trustees. He lived to four days past his 97th birthday.
After a lifetime of service to and support of Wyoming and its university, Cliff created the Clifford Peter Hansen Excellence Fund in the College of Agriculture and Natural Resources. This fund will support the Cliff and Martha Hansen Livestock Teaching Arena and possibly other areas across campus. The arena is a 47,500-square-foot building used for livestock laboratories, judging contests, equestrian practice and competition, rodeo team practices, livestock evaluation courses, the Little International Livestock Show, the Cowboy Youth Classic, 4-H and FFA events, and a variety of public and nonprofit events.
Cliff was always involved in agriculture. He was born and raised on a ranch in what became Teton County. He received a bachelor's degree in animal science from UW in 1934. Later, as the owner of the Spring Gulch Ranch, he was active in agricultural groups—including the Wyoming Stockgrowers Association and the American National Cattlemen's Association. However, he said he did not taste beef until he came to UW: "Beef is what we produced. We ate deer and elk."
He embodied the values of the West: a hard worker, modest, generous, a man of honor. Sen. John Turner, a Teton County rancher and natural resource expert, said, "Cliff was a cowboy. He believed in hard work." Hansen was also a good neighbor. Once, when the Turners were short of pasture because of a change in grazing permits, Hansen was the first to call and offer his own pasture for the Turner cattle. "We didn't always agree on things, but he was always a man of honor," Turner said.
In the work of Wyoming historian T.A. Larson, Cliff comes across as engaging, unaffected, modest, and willing to learn. "His public utterances assayed less than the customary amount of campaign claptrap," T.A. wrote.
U.S. Ambassador Tom Stroock agreed. With characteristic humor, Tom said that one of Hansen's engaging qualities was his willingness to admit he was wrong: "Some people in our profession never admit there is anything wrong."
Like his love of agriculture, Cliff's belief in education came early. As a child, he was hampered by a serious speech impediment that baffled his teachers and labeled him as "uneducable," but then he overcame it by attending a special school. Cliff believed in the value of education, and he advised a grandson, "It's the one thing no one can take away from you."
Cliff continues to cast his much-welcomed shadow across the state—his grandson is Governor Matt Mead.