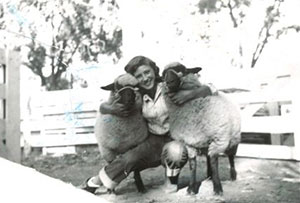 Georgene Hager LeBar loved children. Unfortunately, she wasn't able to have any of her own, so she focused on helping others, including using her estate to support students at the University of Wyoming and others around the state.
"At the heart of her was an incredible desire to help people and to give," says Erin Hager, Georgene's niece. "We have just wanted to carry that on through everything that we've done."
Through Georgene's estate, the family has supported the College of Agriculture and the Alumni Association, as well as creating a scholarship through the Wyoming Community Foundation. Funds have also been used to support the Wyoming Stock Growers Land Trust's Ranchland Succession Program.
These gifts have benefitted many people, but the most concrete contribution was resurfacing UW's indoor track. A plaque has been placed at the Hager-LeBar Indoor Track that allows students and visitors to read about Georgene's legacy and her impact on the lives of others.
"What intrigued us about the track was that there are so many people who walk through there," explains Erin. "There's kids from all over the state who are in there all throughout the year. It was an area for her name to be placed that so many people would walk through—not just people at the University of Wyoming, but kids from elementary age all the way to high school."
Erin continues, "We thought that that place really fulfilled her. It would just touch a lot of lives to see her there."
Georgene was born and raised in Torrington, Wyoming. She received a bachelor's in education at Chadron before returning to Wyoming to start a master's program at UW. She never finished the program because of lack of funds, and then she moved to the ranch with her husband.
Her husband passed away in 1989, but Georgene kept the ranch going. With 55,000 acres in Wyoming, 12,000 acres in South Dakota, and 10,000 acres in Nebraska where she had 2,500 sheep and 1,000 Angus cow/calf pairs, she had a lot to keep her busy. She also raised stock dogs for competition and use on her ranch.
Georgene was no stranger to hard work, and she did what was needed to sustain a living. She was more than willing to help people in need, but she didn't give free handouts. Family was important to her, and without any children of her own, she focused on passing down her ranching knowledge to her nephew Dylan.
Dylan received a degree in agricultural business from UW in 2002. His wife Erin received a degree in business administration from UW in 2003. After they graduated, Georgene asked them to move out to the ranch to live and work. The original plan was to help for a year, but Dylan fell in love with ranching.
Due to Georgene's generosity and desire to see them succeed, Dylan and Erin still ranch today on property 20 miles north of Torrington. When Georgene's estate gave Dylan and Erin the opportunity to support the University of Wyoming, they didn't hesitate, ensuring Georgene's legacy lives on and that others benefit from her kindness. Dylan had played football for the Cowboys as a walk-on, so in addition to the College of Agriculture and the Alumni Association, the Athletics department received part of the gift.
"We love our university," exclaims Erin. "We're very excited to give back to it."
The surface on the indoor track hadn't been replaced in 25 years, and it was causing injuries to the students, so the Hagers were asked to help. With Wyoming winters as harsh as they are, student-athletes need a safe indoor area where they can practice, and the Hager family was more than happy to offer their support.
"It's been a great asset for the UW Track and Field program," says Tom Burman, director of Athletics, "but also for the high school track meets that are hosted there. We were able to dress it up a little bit. We were able to put some new record boards and some graphics on the wall that give it a significantly better feel. It's just provided a much better environment for track and field."
"The family didn't do it for the exposure," adds Tom. "They liked the fact that it was going to impact young people who had a passion for exercise and competition, and it was also going to impact high school kids."
Georgene was dedicated to family, ranching, and helping others. Through her estate, she has been able to support everything that was dear to her in a meaningful way. She may not have been seeking acclaim, but she has it. Her generosity and support should be celebrated for how it impacts others, and through her gifts, her legacy will live on in perpetuity and she will continue to help others for generations to come.