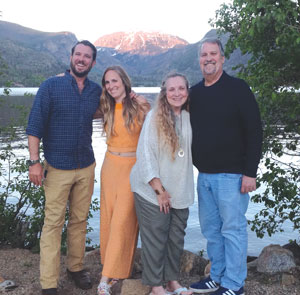 "Being a lifelong academician and now a college president, I have a strong belief in the transformative power of higher education and the transformative power of planned giving," says Dr. John Pieper, UW School of Pharmacy alum, academic leader, and philanthropist. "The way you transform places is that you invest in them. A planned gift is the ultimate gift to an institution."
As a president of St. Louis College of Pharmacy with more than 40 years of experience in his field, John would know. He tells the story, "In 1924, we (at his college) had a dean who was really one of preeminent names in American pharmacy in 1910s and 1920s. He left a gift of $250,000, which at the time was a lot of money. He left it with his nephew to invest. We just received it in 2010, and now years later it's $6.5 million. I tell students, 'Make a gift, and you don't know how that money will grow with compounding.'"
He and his wife Patty, a student-athlete and a UW College of Education alum, have supported UW and Pharmacy throughout the years in many ways. They've given annual gifts, they've established two endowments—a scholarship and a student leadership fund—and now they're including UW in their estate plans. This will support a College of Health Sciences Dean's Excellence Fund that goes toward student leadership.
John loved his time at UW. He had come from a larger school in Colorado, one that he'd found to be somewhat impersonal. His time at UW, though, was just the opposite: "I came as a young person, not clear where my path was going to be. My years at Wyoming helped me define my path. When I left there, I knew exactly what my calling was—really the meaning of my career."
It wasn't just the fact that John found his purpose: "It was the personal relationships that I developed there—the faculty's attention to me as an individual. That is very unique. I have taught at six universities. Being a faculty and academic leader in each of those places, I tried to instill in my small way the lessons I learned at the University of Wyoming."
He adds, modestly, "The impact that happened to me there is more than I've had anywhere else, and despite my best efforts it's probably been more than I've been able to give to the students I've interacted with. I've tried to take those lessons I learned at Wyoming and pass them on. I think it's a very special place."
John credits reconnecting to UW with Angela Ver Ploeg, UW Foundation Director of Development, who helped John and Patty talk through their priorities. "Five years ago in June, I got this random LinkedIn request, 'I'm coming to Saint Louis. Want to meet up?' I thought, I don't know, I guess. But it changed everything, and she continues to be a big supporter of mine."
Not only have John and Patty set up charitable gifts, but John is now serving on the UW Foundation Board. He's a valuable addition due to his expertise in health sciences and academic leadership. He's also reconnected with the School of Pharmacy, previously serving on the Dean's Advisory Board. He's reconnected with his classmates—they had been an unusually tight-knit group while attending.
He says he's recently been thinking a lot about a quote from Pablo Picasso, "The meaning of life is to find your gift, and the purpose of your life is to give it away." He says he found his meaning and purpose at UW, and now he's trying to give it away to those things he's passionate about.
He tells other people thinking about planning their estates, "You spend your lifetime accumulating money, but the real goal is giving it away and making a difference. I think it's really examining your heart and saying where are those places I think I can make a difference? Think about where those transformational opportunities and activities took place in your life and give back too them because if they made a transformation in your life, they'll probably make them in other peoples' lives. That's why I chose the University of Wyoming."
"I feel like the future is looking very bright for the University of Wyoming," John says.