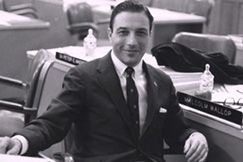 Ambassador Thomas Stroock was a passionate and dedicated public servant whose generosity to his adopted home state of Wyoming and to its university extends way beyond his lifetime.
"When I first came to Wyoming, I thought I'd died and gone to heaven," said Tom in a 2009 interview.
Tom's large bequest to UW continues his support of the Stroock Professorship of Natural Resource Conservation and Management, which he and his wife Marta established in 1988. The bequest also continues his support of International Programs that he loved and to which he dedicated much time. It also supports the curation and digitization of his papers at the American Heritage Center.
Tom and Marta's support of natural resource conservation is a natural outgrowth of Tom's love for Wyoming and his pride in representing the mineral industry while also making significant contributions to environmental and wildlife conservation. The Stroock Professorship in the College of Business was established to further his belief that the best possible use of natural resources need not be incompatible with preserving the best possible natural environment.
Their UW International Endowment, established in 2001, supports a wide range of international programs and scholarships—for example, study abroad and international travel, international speakers, and international faculty and student stipends and awards. Tom and Marta also supported the UW chapter of Engineers Without Borders.
Jean Garrison, former director of International Studies, says, "What Ambassador Stroock has done for International Studies over the years has helped students coming from places like Baggs—students like me (from Dayton)—to accomplish so much." Garrison is now a professor, special assistant to the president for engagement, and the director of Center for Global Studies.
In 2009, with the help of the Stroocks and many other people, UW's international programs were all united under one roof, the Cheney International Center. These programs include International Programs, then headed by Anne Alexander, and International Studies, then headed by Jean Garrison. International Programs led UW's internationalization efforts and included visiting scholars and Study Abroad, while International Studies was a degree program that included faculty and students.
The International Studies office is now under the School of Politics, Public Affair, and International Studies, while International Programs is under the Global Engagement Office, along with International Students and Scholars, Education Abroad, the English Language Center, and the Center for Global Studies.
"Exposing students to the broader world is what a university should do," says Tom. "It should expand the horizons and the knowledge and the attitude of the people in the state. UW doing that is wonderful. It's exciting to watch, and it was exciting to be part of it."
Tom has been a part of Wyoming's and UW's internationalization for most of his adult life, and he served as the U.S. Ambassador to Guatemala from 1989 to 1992 under President George H. W. Bush. It was one of his proudest accomplishments.
"Everybody in the embassy worked like hell to do a great job," Tom says. "Because they did such a good job, it made me look good. We got all kinds of awards and kudos because we had an incredibly able group of officers. I was very fortunate to work with so many talented civil servants."
That portion of Tom's legacy gift designated for the AHC is used to digitize appropriate portions of his papers and the oral history interviews and supports similar work on other AHC collections about Wyoming politics, front range businesses, and Central America. Thus, through his foresight and his longstanding support of AHC programs, Tom strengthens student learning and international scholarship for generations to come.
In 1996 Tom was awarded the Distinguished Visiting Professor Award in recognition for the classes he taught as a Distinguished Visiting Professor of Public Policy. "That title gets me into all kinds of places," Tom says and laughs. For his many years of public service, in 1995 Tom was awarded an honorary Doctor of Law degree.
Tom was born in 1925 in New York City. "I was used to playing in the streets," Tom says. "Public School 6 where I went and Public School 8 in Harlem used to have regular gang fights, and I thought that's what you did after school."
At the age of 17, he enlisted in the U.S. Marine Corps and served in World War II. With the help of the GI Bill, he attended Yale University—along with future President George H. W. Bush—and received a B.A. in economics. He then worked for Stanolind Oil and Gas Company, who sent him to Casper in 1949—and soon after he married his college sweetheart Marta Freyre de Andrade, who was born and raised in Cuba.
He immediately fell in love with Wyoming: "I get out here, and everything I'd always read about and heard about was right where I live." He mentioned backpacking, skiing, duck hunting, fly fishing, and the big game in his back yard. "That's something that a city boy never knew could happen; and when I found out it could and I could stay and take part in it, when the company wanted to transfer me to Tulsa, I said sayonara, I'm staying here." He then founded the first of his own companies, Stroock Leasing Corporation.
In 1960 he began his long career of public service after he was elected to the Natrona County School Board. He went on to the Wyoming State School Board Association, Representative to the Wyoming State Senate from Natrona County, Western State Chair of the Republican Party, and then regional coordinator for both senior President Bush's campaigns. His public service culminated in his appointment as Ambassador to Guatemala.
"I was raised to give back," says Tom. "And I served in the Marine Corps during the war, and that was an incredible growing experience. I hated it. I was dirty and cold and scared most of the time. But it was good for me, and it taught me a whole bunch about myself and the people around me. So I got the idea from there that you had to do more than just sit there and collect your pay."
Tom's life was a testament to this belief. He was known for his honesty and "breathtaking candor" as well as his good-natured humor, and he supported the things he believed in with enormous contributions of dedication, time, and funding. Tom passed away on December 13, 2009, and he is tremendously missed—but his legacy will live on at UW and change the lives of countless students for generations to come.