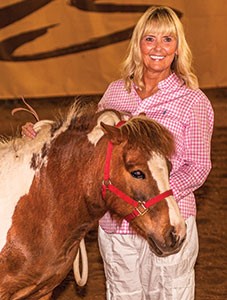 Alum Vicki Taylor is remembering UW in her estate plan. She is utilizing her retirement accounts to establish a fund to support the University of Wyoming's Cowboy Joe mascot program as well as a student internship at the American Heritage Center and UW Club Baseball or the Toppan Rare Books Library. Taylor graduated from the University of Wyoming in 1978 with a bachelor's in elementary education. She now works for Arapahoe County in Centennial, Colorado.
Cowboy Joe, a Shetland pony, is UW's beloved mascot. This beautiful little pony is very popular with Wyoming fans of all ages, and it is a tradition to have Cowboy Joe and his handlers race across War Memorial Stadium after each Cowboy touchdown. He represents UW in parades around the region, appears in Tailgate Park on football game days, and leads the band and team in the pre-game Cowboy Walk. Cowboy Joe's four handlers demonstrate school spirit and care for the rambunctious and adorable pony mascot at all of his events.
There have been five ponies who have trotted under the mantle—all brown and white pintos under four feet tall with blazes down their faces, though Cowboy Joe IV had a white face. All five have come from the Farthing Ranch near Cheyenne, and Cowboy Joe's handlers are students in UW's College of Agriculture and Natural Resources.
Vicki's planned gift will support Cowboy Joe and his handlers by establishing an endowment to benefit the program in perpetuity.
"Growing up in Wyoming, I always knew I wanted to attend the University of Wyoming," says Vicki. "My family raised Arabian horses and was passionate about Cowboy football. I remember watching Cowboy Joe and wishing he were my pony.
When the opportunity arose to financially give back to the University, I was able to gift a legacy endowment to fund the ongoing care for Cowboy Joe and his handlers—including uniforms and travel as well as any necessary academic expenses. My love for baseball and books inspired me to also make gifts to the American Heritage Center and men's club baseball as well. Go Pokes!"