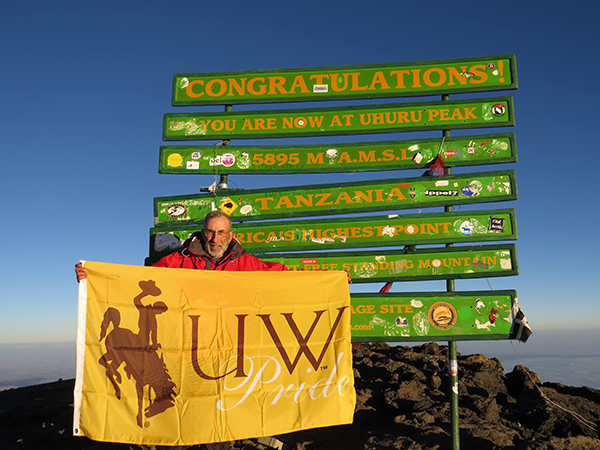 UW law alum Larry Weinberg is an expert in a lot of things, but it all comes together for him in sustainability. Sustainability—bringing people and projects together to ensure our futures—is the focus of his estate gift to UW, as well as his years of generosity since his graduation.
What interests him about sustainability?  Larry says, "From a mathematical standpoint, I would like (researchers) to come up with models to integrate the social, economic, and environmental aspects. For a lot of people, sustainability just means the environment.  They don't look enough at the social system and how does this impact on economics.  You need to look at everything. 
He grew up in New Jersey and earned his undergraduate degree in mathematics at Rensselaer Polytechnic Institute in New York. He went on to earn his doctorate in mathematics from the University of Minnesota and then came to UW to teach in the math department. While here, he took an upper division law course, which he enjoyed, so he decided to get his law degree at the UW College of Law. He earned his degree while serving as the coach of UW Men's club soccer. 
"(Math and law) play together nicely," Larry explains.  While people with their bachelor's in political and social sciences initially have an advantage in law school—as they'd already been thinking and talking about these subjects—the math and science majors have an advantage in the long term because they are taught to think analytically and logically.  "It's easier to pick up subject matter than a way of thinking," Larry says. 
"I'm trained in systems thinking," Larry says. "I look at everything. The math training is useful in areas outside of math."
He enjoyed his time here, and he recommends UW—and the Montana colleges, where he worked—to young people considering where to go to college. "(These schools) are not usually in the thought processes of those living on the East and West Coasts.  They are good schools. A lot more relaxing atmosphere than going to a school with 45,000 students.  There are big advantages, especially for undergraduate work, at a smaller school where you actually get to see professors as opposed to graduate assistants." He adds that a lot of people who come here to go to school will stay, which will help with economic diversification in the state.
Since then, Larry has taught math, he worked for Montana state government as legal counsel, and then he moved on to Boeing in Seattle as a systems engineer and environmental engineer, eventually becoming a Boeing Associate Technical Fellow. While at Boeing, he published a number of papers on corporate sustainability and environmental stewardship. Now that he's retired from Boeing, he's back teaching math, and he also has time to travel. He's been all over the world—from Patagonia to Tanzania, from Nepal to Norway, climbing mountains along the way.
Larry is remembering UW in his estate and has been giving consistently to UW these many years since he attended. He supports Law, the Haub School of Environment and Natural Resources, and Arts and Sciences (math).
Once again, Larry is doing his best to bring together those things he's passionate about. With his estate, he is also supporting Rensselaer, a land trust, and two animal welfare nonprofits. He hopes to foster alliances between UW and Rensselaer. He explains that Rensselaer is an elite East Coast engineering college, while UW is a western land grant institution focused on natural resources.  The schools have different strengths and weaknesses, and an alliance would benefit both through student exchanges and joint research.
Before he travels the world to climb a mountain, Larry comes back to Laramie and climbs Medicine Bow Peak.  "It's a practice run," he says.  "You got to get up a little high.  You can get to 12,000 feet and may not be able to get to 13,000 because it's your physiology that stops you.  But if you can't get to 12,000, you're in trouble."
PHOTO:
Larry Weinberg showing his UW pride on top of Mount Kilimanjaro in Tanzania.