Collaboration Program in Natural Resources
Building Collaborative Capacity in Wyoming and Beyond

COVID-19 NOTE: As of January 2023, we anticipate running a full, in-person program for 2023-2024 using the following precautions. Participants are strongly encouraged to be fully vaccinated by the time the program starts, including the booster shot. Participants may be asked to use two of the three COVID risk reduction strategies for in-person sessions: vaccination, masking, and testing. Some guest faculty may request that all participants be fully vaccinated for their workshops.
PROGRAM OVERVIEW
Natural resource problems are complex, involving more than science and policy decisions. These problems tap into people's deeply held values and beliefs, local economic and conservation interests, and more.
Natural resource practitioners are often called upon and sometimes required to work collaboratively in complex and contentious settings with stakeholders, people and groups with a vested interest in whatever solutions are ultimately proposed and implemented. 
The Collaboration Program in Natural Resources works with mid- and upper-career natural resource professionals to help them maximize their impact in complex and often contentious collaborative settings. CPNR seeks to increase knowledge and skills in three main areas:
Collaborative leaderships skills in areas such as effective communication, conflict resolution, and innovative problem solving

Designing, convening, and facilitating collaborative problem-solving processes

Participating effectively in collaborative problem-solving processes
CPNR graduates go on to lead collaborative problem-solving processes throughout Wyoming and across the West, ensuring that natural resource management decisions are more inclusive, consider more community and stakeholder needs, and will be more robust and longer-lasting than they could ever be without collaboration.
The program brings up to 20 participants together for a ten-month training program focused on collaborative leadership and problem-solving. The first five sessions include interactive hands-on training in leadership, collaborative process design, negotiation, facilitation, and more. Participants then apply what they've learned to a practicum: a real-world collaboration project at work or in their community. The program culminates in April, with project presentations and a celebration for the graduates.
Download the 2023 CPNR Recruitment Flier
Learn more about each session in the 2022 CPNR Program Outline (2023 outline forthcoming)
---
Statement on Diversity, Equity, and Inclusion (DEI) 
The Collaboration Program in Natural Resources invites individuals to deepen their technical and leadership skills in the service of solving our state, region, and country's most complex natural resource and environmental problems. It is inspired by the core values of the University of Wyoming as described in its Diversity, Equity and Inclusion Strategic Plan: inclusivity, multiplicity, fairness, and parity.
This work requires members of the CPNR community to develop the leadership skills necessary to effectively engage in sometimes difficult conversations with their colleagues and collaborators around identities, perspectives, and life experiences such as political identity, race, ethnicity, gender, sexual identity, and country of origin. 

CPNR is committed to furthering this work by recruiting diverse cohorts, integrating DEI into the curriculum, and convening/participating in related conversations locally, regionally, and nationally.
---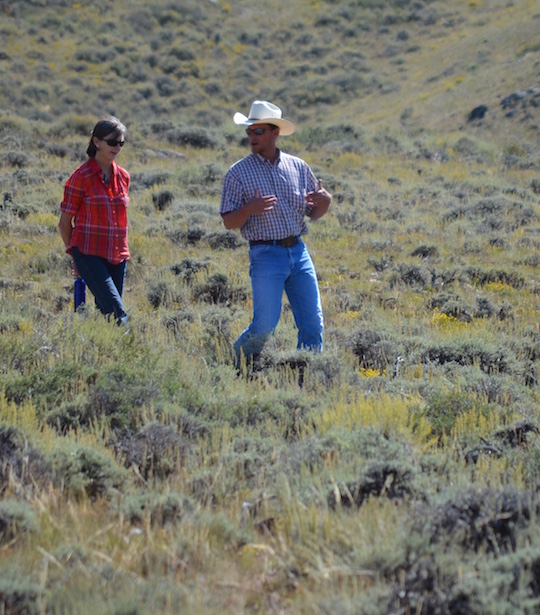 Program dates and locations
CPNR participants attend five rigorous, hands-on sessions to develop collaborative problem-solving skills for natural resource issues. They also complete a skills practicum. Sessions for the 2023 class run from noon Wednesdays to noon Fridays as follows:
(Updated January 2023)
July 19-21, 2023, Lander, WY

August 15-18, 2023, Ten Sleep, WY*

September 13-15, 2023, Laramie, WY

October 25-27, 2023, Saratoga, WY

Nov 29-Dec 1, 2023, Laramie, WY

April 17-19, 2024, Sheridan, WY
*Session 2 will begin early on August 16th. Participants will be asked to arrive in Ten Sleep the evening of August 15th. 
---
Program Requirements
Attend all six session from July—April

Complete one or more self-assessments and work to build collaborative leadership skills and behaviors

Engage with the program in between sessions by for example reviewing materials, watching brief videos, and participating in group calls and online discussion forums

Develop and make significant progress on a project that focuses on a collaborative problem-solving opportunity
Participants successfully completing the program have the option to earn graduate credit through the University of Wyoming.
---
How to Apply
Applications for the next round of CPNR in 2023–2024 are being accepted through April 28, 2023. To apply, please complete the 2023 CPNR Application.
---
Tuition
The Program tuition is $1,300, which helps CPNR cover costs related to the program. The tuition must be paid in full by July 1. Tuition is not refundable if a participant withdraws from the program (though it may be applied to a future year). Transportation, lodging, and other related expenses are the responsibility of the participant.
---
Scholarships
Thanks to generous support from Rocky Mountain Power, CPNR is able to offer a limited number of scholarships to help cover tuition costs for participants who might not be able to otherwise participate. Please indicate on the application form whether you are seeking scholarship support.
---
---
Instructors
Deb Kleinman, CPNR Director

(307) 314-2385 | deb@lupinecollaborative.com | Website

Deb Kleinman is a facilitator, trainer, and leadership coach based out of Laramie, WY. She launched Lupine Collaborative in 2012 to help organizations work more effectively together, make better decisions, and increase their impact in ways that matter. She has over 20 years of experience working in and with nonprofits, academic institutions, public agencies, and private businesses on a wide range of strategic, collaborative, and training issues. Deb has extensive training and experience in facilitation, collaborative decision making, conflict resolution and conflict coaching, and leadership development, and is a certified professional coach.

Dr. Steve Smutko, Spicer Chair in Collaborative Practice

(307) 766-2703  |  steve.smutko@uwyo.edu  |  Website

Professor and Spicer Chair in Collaborative Practice, also at the Ruckelshaus Institute, Dr. Smutko co-teaches the CPNR training sessions. He has designed, convened, and facilitated numerous public policy decision processes on natural resources issues in the Rocky Mountain West and the southeast United States. Dr. Smutko also conducts research in collaborative decision-making and teaches courses to University of Wyoming students and to natural resource stakeholders in environmental decision making and negotiation analysis.
---
The Collaboration Program in Natural Resources is made possible by generous support from Rocky Mountain Power and The Spicer Fund for Collaborative Solutions.