Developing Professionalism
Research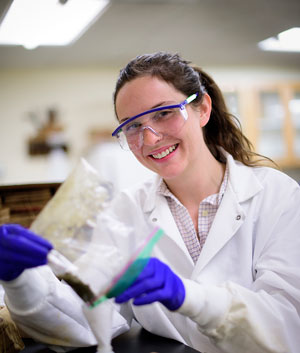 Engaging in significant independent research is an excellent way to prepare for your career in the health professions.  It allows you to demonstrate your interest in the sciences, develop close personal relationships with faculty mentors, solidify your grasp of scientific knowledge and understand the research process itself.  As health care moves more towards an evidence based model, and new findings result in new practices and therapies, it is vital that health care providers grasp the strengths and limitations of the research process and are able to critically evaluate and apply research results to their patient's situations.  There are a variety of ways to get involved in research at the Univ. of Wyo. including EPSCoR, WRSP, NASA and INBRE.  Many universities, government agencies and some commercial or non-profit organizations will also have research opportunities.  An outstanding program is the National Institutes of Health Fellowship program. 
Social Media
As more and more of the public use social media to find care providers and make decisions about whom to trust, people's first impression of us is often formed by our on-line presence before they ever contact us.  Increasing health profession programs and employers are also looking at potential students or employees on-line, in addition to application and interview material.  The Association of American Medical Colleges (AAMC) has put together a guide and case studies concerning on-line presences.  While it is put out by the AAMC the information and issues raised are relevant to all professions; health care related or otherwise.
Interprofessionalism
Health care is a team activity!  All health care providers work directly with other providers and support staff on a daily basis, and also routinely consult with colleagues and experts in other areas.  Be it a physical therapy assistant or a neurosurgeon, all providers have their areas of expertise and their limits; they need the other professionals to be efficient and provide ethical, high quality and effective care to patients. It is vital as you learn about health care professions to be aware of how other fields contribute to patient outcomes and learn to work effectively with a wide variety of people.   For opportunities to get involved in interprofessional education, and learn about interprofessional practice, visit the Insitute for Healthcare Improvement website!
---
To make an advising appointment, click HERE