Higher Education Act 1965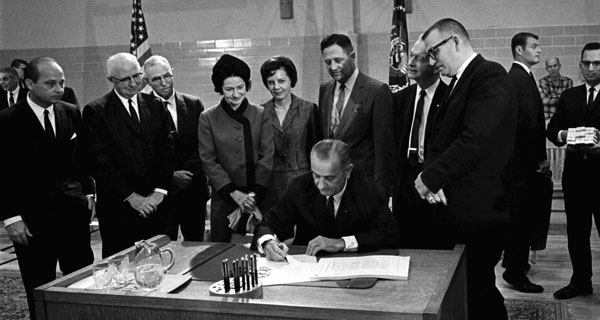 The Higher Education Act was signed by President Lyndon B. Johnson on November 8, 1965. The purpose of the Higher Education Act was to strengthen the educational resources of our colleges and universities and to provide financial assistance to students in postsecondary and higher education. The legislation enabled many to attend college who would not otherwise have had the chance. It covered many bases, including the provision of federal resources for continuing education, community service programs, and stronger library programs and library instruction. In addition, the law supported cooperative arrangements between colleges and universities and the establishment of a National Teacher Corps to attract teachers to underserved institutions. The most far-reaching component was the reduction of financial barriers to attending college. 1965 marked the beginning of a coordinated federal effort to address the issue of financial aid for all students with the establishment of low-interest federal student loans. A subsequent reauthorization of the Act in 1972 led to the creation of the Pell Grant program, which provides need-based grants for students at middle and lower income levels.
The Higher Education Act undergoes reauthorization through the Federal Negotiated Rulemaking Act procedures. Negotiated Rulemaking is the process Federal Agencies use when there are proposed changes to administrative regulations. Government agencies and affected interest groups gather to comment and negotiate terms of these changes. The Higher Education Act has been reauthorized 9 times: 1968, 1972, 1980, 1986, 1992, 1998, 2008, 2020, 2022.
Higher Education Act of 1965: 2008 Reauthorization
2018-2019 Higher Education Act Negotiated Rulemaking