LEED Buildings
Many of the new buildings on UW's campus are not only functional and beautiful – they're also green. As part of the University Presidents' Climate Commitment , the University of Wyoming has committed to building to LEED-Silver standards or better. The US Green Building Council tp Leadership in Energy and Environmental Design (LEED) is the industry standard for evaluating green building practices.
Many of our new buildings also take the additional step of being officially certified under the LEED system, with key elements of the facility's design and construction reviewed by a third party.  Points are earned for site selection, indoor environmental quality, sustainable materials use, and energy and water conservation. These buildings, filled with daylight and fresh air, are designed to be comfortable and inspiring for the students, staff, and faculty who occupy them, and set the standard for university facilities.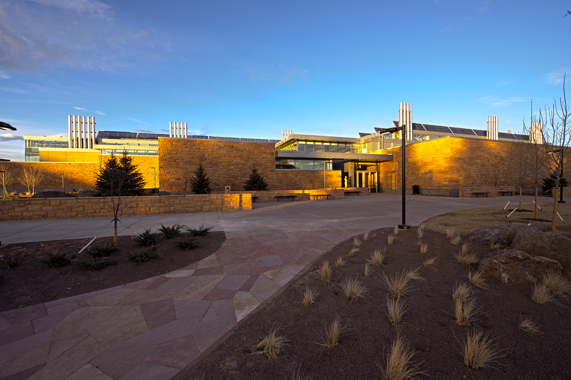 The UW Visual Arts Building received the highest possible LEED certification, Platinum, and won a prestigious American Institute of Architects award for its outstanding green design. The building is projected to produce 54% less carbon dioxide relative to traditional buildings through evaporative cooling, exhaust heat recovery, natural ventilation, and other innovative approaches. The building also generates renewable energy from an on-site solar thermal array to produce hot water for heat.
Berry Biodiversity Conservation Center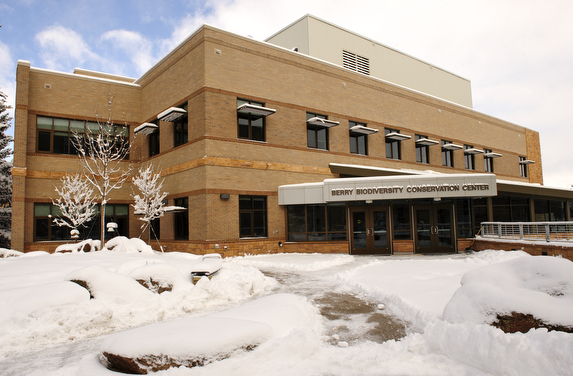 The Berry Center, home to the Biodiversity Institute, is a space to examine and explain biological diversity and the importance of diversity for the maintenance of ecological structure and processes. A focal point of the Berry Center is its 3,600 sq. ft. green roof, which reduces storm water runoff and heat island effects, and utilizes locally native plants to create pedestrian friendly space and habitat for wildlife. Other green features include a building exhaust system for energy recovery and 80% diversion of construction waste.
Bim Kendall House
LEED Gold Scorecard (2012)
The Kendall House, home to the Haub School of Environment and Natural Resources, was the first LEED green building constructed at UW and the second building to achieve LEED Certification. The Kendall House relies on simple technologies and green building solutions transferable to small-scale institutional and residential-scale buildings, including passive ventilation and extensive daylighting. Floorings are from rapidly renewable cork, plant-based linoleum and rubber, and recycled car tires. A photovoltaic panel system generates 1/3 of the building's electricity and variable frequency drive motors reduce energy use in the heating system.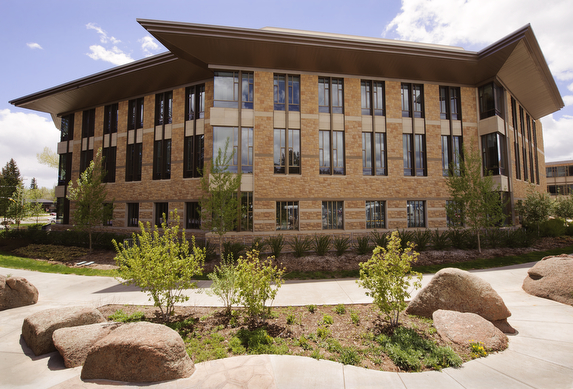 The UW College of Business was the first state-funded building in Wyoming to achieve LEED-Gold certification and only the fourth business school in the nation to receive that certification. The project includes an addition and a complete remodel of the existing 53,000 square foot business building, 95% of which was reused or recycled. Daylighting is maximized through a central atrium and 90% of storm water is treated on site to remove suspended solids.
Other UW Buildings
As part of the Climate Commitment, UW's major capital facilities projects are designed and built to LEED Silver standards. View their projected green building scorecards here.
Half Acre Gymnasium (2015) – Anticipated Gold certification, tenative scorecard
Buchanan Center for the Performing Arts (2015) – First UW building registered under the LEED for Existing Buildings Operations and Maintenance metric
Michael B. Enzi STEM Laboratory Facility (2015)
Marian H. Rochelle Gateway Center (2014) – Anticipated Silver certification, tenative scorecard
Energy Innovation Center (2013) – Anticipated Silver certification, tenative scorecard
Wildcatter Suites, War Memorial Stadium (2010)
---
 For more information on green building in Wyoming, visit the US Green Building Council – Wyoming.