Contact Us
Institutional Communications
Bureau of Mines Building, Room 137
Laramie
Laramie, WY 82071
Phone: (307) 766-2929
Email: cbaldwin@uwyo.edu
UW's EORI Hires Two New Staff Members with Specialized Experience
April 10, 2020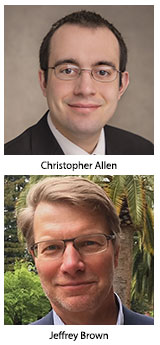 The University of Wyoming's Enhanced Oil Recovery Institute (EORI) in Casper recently hired two new staff members -- Jeffrey Brown and Christopher Allen -- who are expected to advance the institute's economic studies and modeling research.
The EORI identifies problems that affect Wyoming's oil industry and tests new technologies designed to boost oil production and maximize efficiency for secondary recovery. The new team members fill positions in economics and assist with EORI's current and proposed projects.
Brown joined the EORI in March as the director of energy economics. He is an expert in energy project development and finance, with an emphasis in carbon capture and enhanced oil recovery. 
In the near term, he will focus on Wyoming's interest in exploring carbon capture at existing coal plants and the possible use of CO2 to expand CO2-EOR operations in the state. Brown also will advance a project feasibility analysis inside the EORI and UW teams, as well as teach seminars at the UW College of Business.
Brown formerly was a member of the EORI Technical Advisory Board and served as an investment banker for the Wyoming Pipeline Authority.
Brown's consulting firm, Brown Brothers Energy & Environment LLC, has executed carbon capture techno-economic and policy projects for a variety of clients, including the Oil and Gas Climate Initiative, the Great Plains Institute, the Hewlett Foundation and various private equity investors.
From 2014-19, Brown taught graduate-level courses on energy project development and finance at Stanford Law School and the Stanford Graduate School of Business. From 2009-2016, Brown was a power project developer and head of project financing for Summit Power. His previous investment banking background includes 25 years of project and infrastructure financing at Goldman Sachs and Merrill Lynch, while working in New York, Hong Kong and Seattle. 
"Jeff Brown is a nationally renowned energy and pollution control industry finance expert, having been a managing director at a major Wall Street firm and a senior officer at a power project development company," says EORI Director Steven Carpenter. "Jeff recently served on the coordinating subcommittee and headed the integrative economics team for the National Petroleum Council's report to the secretary of energy on carbon capture, utilization and storage. He was a research fellow at the Steyer-Taylor Center for Energy Policy and Finance."
Allen started with the EORI as an economist in July 2019. His areas of expertise include project financing and techno-economic modeling. Allen has collaborated with financial institutions and volunteered with the Laramie Main Street Alliance, bolstering his background in experimental learning projects. He is preparing a cost-optimized network of pipelines for a state carbon capture, utilization and storage system; calculating the long-term returns of a state power plant refit; and modernizing existing models created by previous EORI economist Ben Cook.
"Chris comes to us a recent graduate of UW's Energy MBA Program," Carpenter says. "Under the tutelage of Dr. Ben Cook, Chris will advance much of the work begun by his mentor and assist the EORI and Wyoming operators with key economic issues."
Contact Us
Institutional Communications
Bureau of Mines Building, Room 137
Laramie
Laramie, WY 82071
Phone: (307) 766-2929
Email: cbaldwin@uwyo.edu