Contact Us
Institutional Communications
Bureau of Mines Building, Room 137
Laramie
Laramie, WY 82071
Phone: (307) 766-2929
Email: cbaldwin@uwyo.edu
UW Speech Pathology Assistant Professor Receives 2020 Young Professional Scholarship
June 1, 2020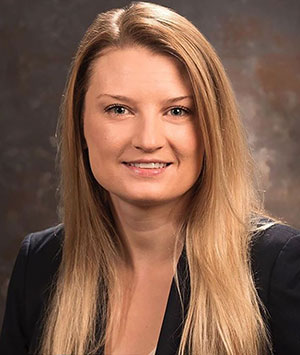 Katelyn Kotlarek
Katelyn Kotlarek, an assistant professor in the University of Wyoming Division of Communication Disorders, is the recipient of the American Cleft Palate-Craniofacial Association's (ACPA) 2020 Mazaheri Young Professional Scholarship.
The ACPA is an association of health care professionals and scientists who treat and/or conduct research on oral cleft and craniofacial conditions. The association also works to support the care of individuals and families affected by cleft and craniofacial conditions.
"To be eligible to receive the ACPA scholarship, individuals must have completed training and worked in the cleft/craniofacial field for less than 10 years," Kotlarek says.
Kotlarek joined the Division of Communication Disorders in the College of Health Sciences in 2019 and has established the Speech Imaging Laboratory. Using integrated imaging technology, advanced 3D computer visualization, and acoustic and aerodynamic speech data, Kotlarek examines the anatomy and physiology of the speech mechanism in children and adults with cleft palate.
Mary Hardin-Jones, a UW communication disorders professor and American Speech-Language-Hearing Association Fellow, provided support for Kotlarek's scholarship application.
"Dr. Kotlarek was recruited to Wyoming to strengthen the basic science underpinnings of our graduate program," Hardin-Jones says. "She is a focused, productive young scholar who has a very promising career in research. Her program of research has the potential to influence future assessment protocols and surgical interventions for children with craniofacial anomalies."
Mark Guiberson, Division of Communication Disorders director and professor, was not surprised by this award.
"Dr. Kotlarek's research and teaching are innovative and have the scientific rigor that will prepare our students for clinical work or research, and also will lead to advancements in clinical practice," Guiberson says.
Kotlarek has served the craniofacial population through research, teaching, service and clinical practice.
"My research aims to improve speech and surgical outcomes, and the standard of care for individuals with cleft palate and other craniofacial anomalies," Kotlarek says.
To learn more about Kotlarek's research, visit www.uwyo.edu/speech-imaging/index.html.
Contact Us
Institutional Communications
Bureau of Mines Building, Room 137
Laramie
Laramie, WY 82071
Phone: (307) 766-2929
Email: cbaldwin@uwyo.edu